Front doors come in a variety of materials and styles. At Internorm, we provide an overview of the two most common home improvement solutions and their additional options. The front door creates a first impression, and it is the first thing that guests see when you welcome them into your home. A common stylistic feature is matching your home and meeting building standards and protection requirements, such as weather, heating, and burglaries.
Below we describe our selection of front doors and the main advantages to your home.
Aluminium Doors
Metal material is ideal for a front door. Aluminium, in particular, is distinguished by its low weight and high stability; it is corrosion-resistant (rust-proof) and dimensionally stable. This means that tough weather conditions do not affect an aluminium front door. In addition, aluminium can be shaped into the desired structure and still achieve the density needed for energy-saving requirements.
Thanks to our various range of design and colour options, aluminium doors can also be tailored to individual wishes – thus matching the appearance of the window frames perfectly. Otherwise, you can opt for concrete for a more rustic and steel surface – there are no limits to your creativity!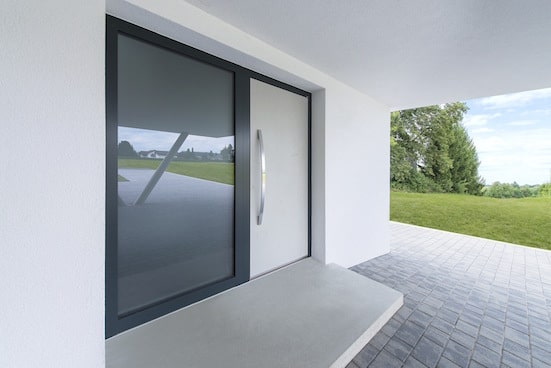 Wood/Aluminium Doors
A wood finish creates a cosy atmosphere. However, it is important to note that wood is not weatherproof and must be treated accordingly. Permanent weather protection is guaranteed by vanishings, coatings, and plastic or metal shells to fix this issue.
Therefore, wood/aluminium doors are an optimal solution here. They combine the advantages of both materials and are also suitable for low-energy and passive houses—the perfect combination for the perfect door solution.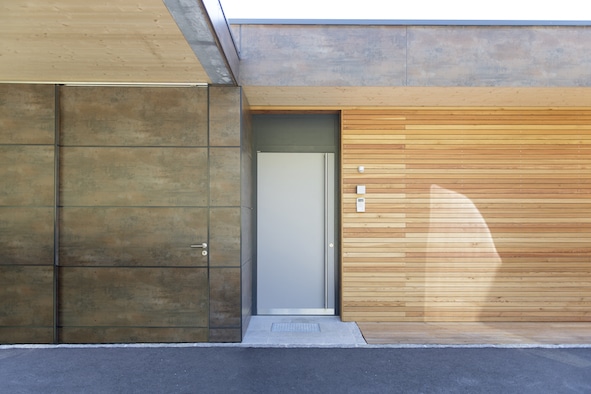 Additional Options
Glass Elements
Glass integrations within front doors have a friendly and inviting impact whilst bringing light into the home. You can give visitors exciting previews of your home through glass cut-outs of different shapes and sizes. You can also add additional side panels to make the entrance area look more spacious and attractive.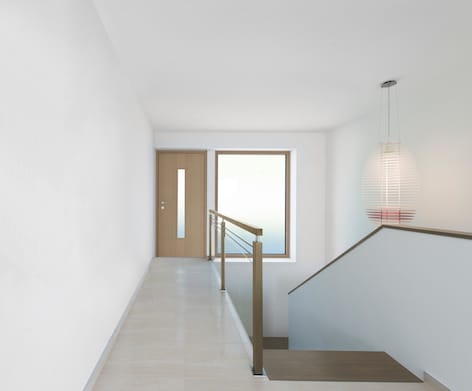 Light Accents
By integrating specific light positions, you can give your front doors a very special charm. A bright, friendly entrance welcomes visitors with a bright and airy appearance.
LED lighting can be installed in aluminium front doors and equipped with a twilight switch. For example, a flush-mounted LED shell handle, which Internorm offer in two sizes. Another variant for setting lighting accents could be a bright door leaf. In this case, the LED lighting is installed directly in the threshold area of the front door.
Whatever you wish, Internorm can make sure that we accentuate the right areas at the right time.
To find your ideal front door and add some exciting touches, get in touch with Internorm and discover what your home is capable of.