Aluminium Entrance Doors for All Architecture Styles
At Internorm, we have an exquisite selection of luxury aluminium entrance doors on offer. With any of our aluminium front door profiles, you or your clients are able to enjoy beautiful visual designs without compromising on functionality. We offer innovative designs that have been meticulously tested by our team of professionals, ensuring each and every aluminium entrance door provides optimum levels of performance.
Manufactured using a collection of the highest quality aluminium materials, the luxury aluminium entrance doors will provide excellent longevity and protection against harsher climates. No matter the design or colour choice that is chosen, the frames and glazing will retain their stunning looks for years to come, with minimal maintenance required.
Aluminium Entrance Doors Media
At Internorm, we have a wide range of aluminium front door profiles for you to view. Our team are highly trained on all that we offer, and can therefore provide you with excellent and in-depth knowledge of how our door systems can improve you or your clients' properties.
With our impressive online media gallery and documents downloads centre, you can find all the information you need to know about all of our architectural glazing systems with our expansive range of datasheets. If you have any other questions, then please don't hesitate to get in touch.
To receive even more technical information about our product range, simply register with Internorm CONNECT to enjoy full access to our datasheets.
Benefits of Internorm Aluminium Entrance Doors
A range of incredible standard colours as well as more bespoke options including metallic shades & stainless steel finishes.
Feature high security locking mechanisms & other optional security components including cylinders, signal lights and door blocks
Aluminium entrance doors that reach Passive House requirements, with U-values as low as 0.75.
Smart home innovations including optional shading, glazing, insulation and ventilation can take the aluminium doors into the future.
An integrated fingerscanner or keypad can remove the need for a physical key to enter the property.
Aluminium front doors with low thresholds provide ease of access for all homeowners.
A foam insulated core plus three internal chambers improves heat retention, keeping a property comfortable all year long.
Our aluminium entrance doors are PAS24 tested with additional Secured by Design accreditation.
Ready to Start Your Next Project?
Find your nearest Internorm Distribution Partner to get started!
Aluminium Entrance Doors for Contemporary Homes
For home and business owners that reside in a more modern and contemporary style property, our aluminium front doors can be styled in a selection of bespoke designs that will add luxury flair to the property, whilst perfectly complementing the style of architecture.
Perfect for residential and commercial applications, you can choose from a selection of our stunning colours and finishes to match your preferred designs preferences. Whether a standard colour is desired or you'd like to opt for one of our hirest shades or bespoke Internorm RAL shades, we can help you find the perfect colour for your grand design aluminium entrance door.
At Internorm, you have complete control over every aspect of your aluminium front doors design. To finish off the look, we can provide a range of stunning handles for you to choose from including stainless steel bar and push & bow handles. For an ultra modern visual, we even offer recessed handles that are available either attached or flush within the aluminium entrance door frame.

Aluminium Entrance Doors for Heritage Homes
For period and heritage properties alike, our aluminium entrance doors can also cater to a more traditional style of architecture. As well as our ultra modern aluminium front door designs, we can offer more traditional styles that are able to reflect the style of architecture they're being installed into.
Period homes often feature heritage style profiles, so we have carefully designed the perfect collection of aluminium front doors that can feature profiled glass frames within the design to create a more authentic visual that suits the property.
If you desire to replicate traditional timber style doors, we offer a wide range of timber grains and finishes, creating an incredibly charming and authentic door design. Please take a look at our online door designer and you can see the incredible customisation options we offer on our aluminium front doors.
To complete the look of your aluminium entrance doors for period homes, we offer a stunning collection of charming door knockers manufactured in Brass or Stainless Steel materials. We can also match these to the collection of traditional levers and handles available to you.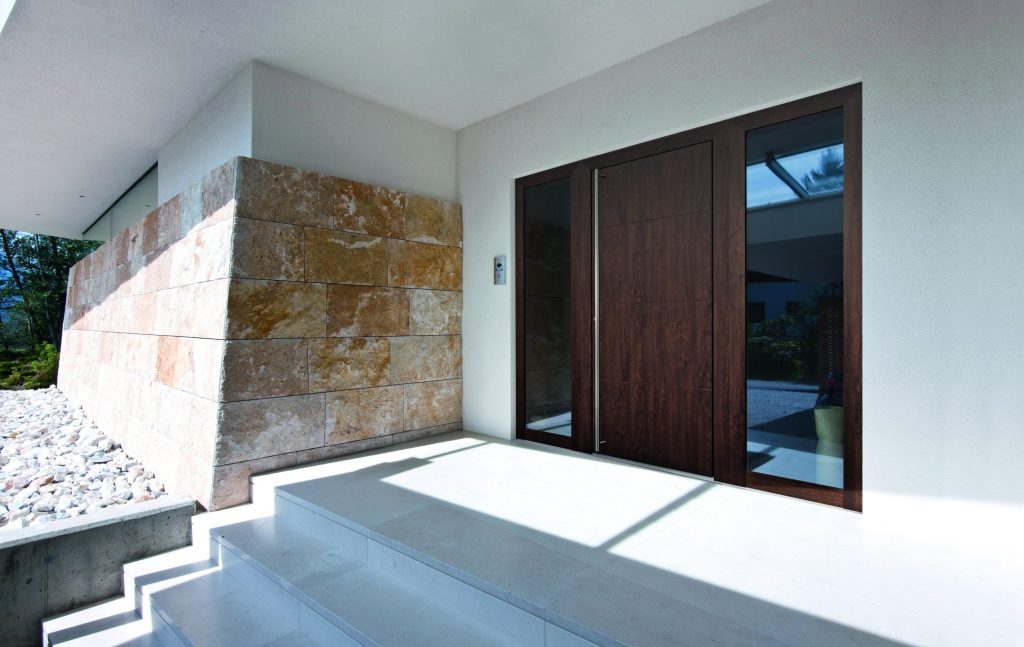 Internorm Entrance Doors for UK & Ireland Homeowners
Choose Internorm today if you are looking to incorporate high end luxury aluminium entrance doors into your home renovation project. We will put you in touch with your local Internorm Distribution Partner, where they can provide you with quotes and consultations for your luxury front doors.
Our expert team are highly trained in what they do and can provide you with an outstanding client service. You can get in touch with us today, and be provided with in-depth product knowledge of all the incredible products we offer. We can also give you plenty of advice if you're looking to become an Internorm Partner.
When you choose Internorm, you can build a better home, and bring your grand design project to life.