Stylish Timber Aluminium Front Doors
As a leading manufacturer, we pride ourselves on our excellent range of front doors made from the best composite materials. The timber-aluminium front doors we offer excel in performance and their improved functionality allows you to enjoy a more secure, energy efficient and weatherproofed home. We offer an outstanding range of modern and contemporary front door designs for you to choose from, all of which have been meticulously tested by our team.
Our range of timber-aluminium entrance doors are manufactured using a combination of aluminium and timber materials, helping to blend the beautiful design features of timber with durable and secure aluminium, and thus creating a stunning door that never compromises on design or functionality, keeping your home warm and secure.
Timber Entrance Doors Media
If you would like to find out more about the incredible features and benefits our Internorm timber aluminium entrance doors have to offer, then get in touch with your local Internorm Partner, who will have a selection of Internorm doors in their showroom as is able to discuss options with you.
You can also design your own door on our clever Door Designer tool – you can even upload a picture of your existing door and try out different Internorm replacement options.
For inspiration, take a look at our fantastic Case Study videos or Gallery page.
If you can't get to a Internorm Partner showroom, you can tour the UK Head Office VR showroom tour.
Features of Timber Aluminium Entrance Doors
U-Values as low as 0.58 - making our aluclad doors perfect for Passive House properties
i-TEC innovations including shading, ventilation, glazing and insulation
Option of integrated finger scanner which provides a more secure way of accessing the property.
Additional security components available including high security cylinders, door blocks and signal lights
Highly weather resistant finish in an incredible collection of colours
3-15 year warranty with any timber aluminium door style
Accredited with Secured by Design and PAS24 tested for complete peace of mind
Can be designed to match any range of Internorm window systems
Ready to Start Your Next Project?
Find your nearest Internorm Distribution Partner to get started!
Timber Aluminium Front Doors for Modern Homes
At Internorm, we cater our designs to suit a wide range of architectural buildings. Our timber aluminium doors are perfect for modern and new build homes that are after a door the reflects the contemporary visual of a property.
We offer a collection of more modern aluclad door styles with the choice of glass cut-out panels. The choice of colours is extensive, allowing you to choose from standard colours as well as our highest colour collection, alongside metallic decor shades and stainless steel options.
To complete the look of your new timber aluminium doors for modern homes, we offer stainless steel bar handles in a range of sizes and styles, as well as push and bow handles in both steel and Chrome Matt finishes. Recessed handles are also an exquisite option if you really want to create a truly contemporary aluclad entrance door for your property.

Timber Aluminium Entrance Doors for Traditional Homes
If you reside in a more heritage or period style property, then our Internorm aluclad doors can also be designed in more traditional configurations and styles. Adding heritage appeal and charm to an older property will require door systems that are designed to match the architectural style and complement the overall visual.
With the option to incorporate profiled glass frames into the design, with textured or decorative glazing, you can easily replicate more traditional door styles, that provide those charming heritage designs that a wide range of period homes typically have installed.
For more traditional style homes, the timber aluminium door profiles can be coloured in more traditional colours, as well as our collection of Timber decor and woodgrain finishes. To enhance authenticity further, the aluclad door systems can be fitted with either brass or stainless steel handles and door levers, as well as a selection of bespoke door knockers.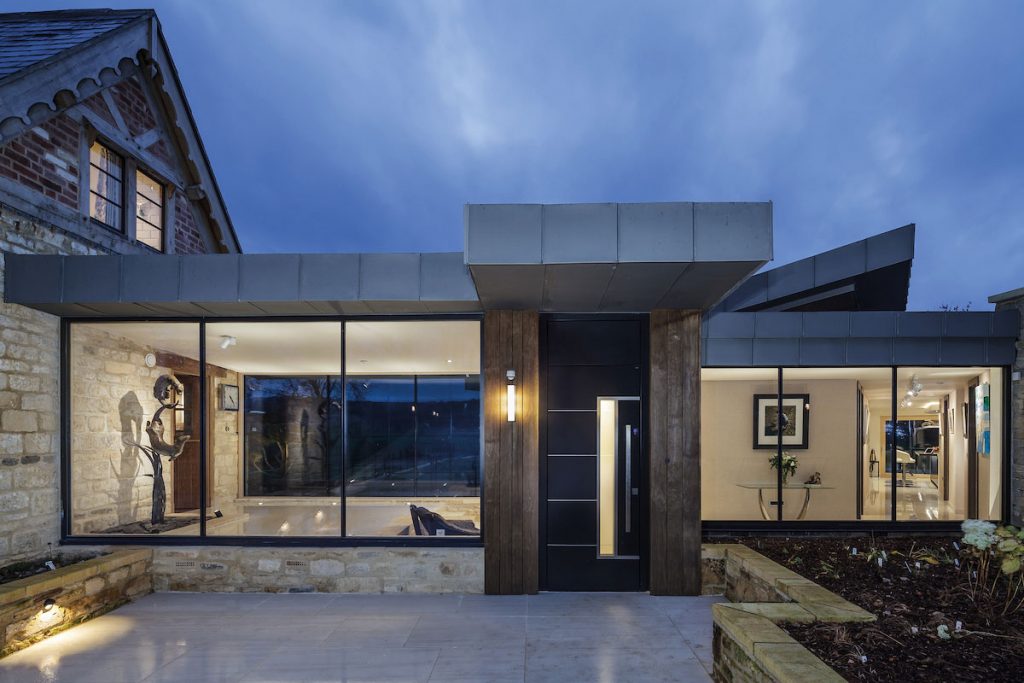 Timber Aluminium Entrance Doors Throughout the UK
If you would like to incorporate our selection of timber aluminium entrance doors into your next grand design project, then get in touch with our team today. Whether you are looking to upgrade your own home or a clients property, we can provide you with an exceptional collection of profiles that are tailored and designs to provide optimum performance and style.
We can put you in touch with your local Internorm Distribution Partner, who will be able to provide you with exceptional knowledge and advice on all the products we offer. You can quotes and consultations for your brand new timber and aluminium front doors.
If you're are looking to become an Internorm Partner, then please contact our friendly team today. Our team are highly trained and have been working within the industry for a number of years, and can therefore provide you with any advice you need for becoming a partner.