A front door says a lot about the people that reside behind it. Whether you live in a contemporary or more traditional house, your front door is one of the most important features of your home. It reflects your interior and your personality, providing passers-by, friends and guests with a small glimpse of what they can expect when they walk through the entrance door into your home.
Therefore, the condition, style and colour really matter. Not only that. To ensure that your property is energy efficient, it is important to get an entrance door that keeps the draft – and noise – out and the heat in.
An entrance door should not dominate but enhance the building around it. Changing a front door can dramatically transform your house, and the period aesthetic of your property, or the location within the country, might affect what style or colour you choose. With so much choice available, what are the five key features of Internorm front doors to consider?
Let's narrow it down – Aluminium or Timber-Aluminium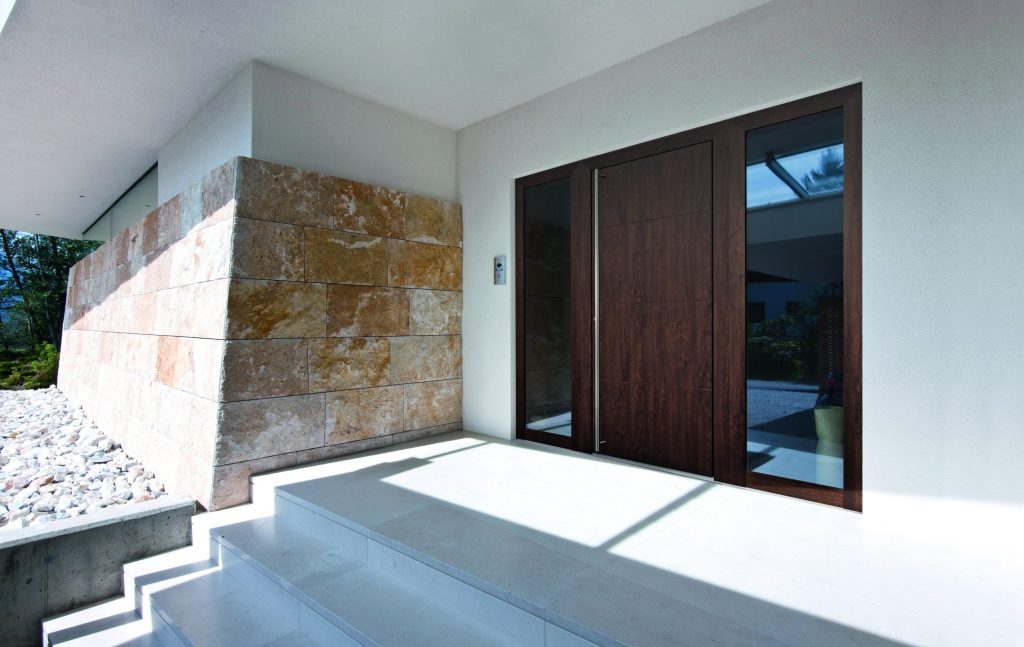 Fundamentally, Internorm offers two types of entrance doors. Aluminium front doors are aluminium both inside and out, whereas the timber-aluminium doors offer you a choice of timber finishes on the inside, which you can match to your Internorm timber-aluminium windows. Each of the options allows you to choose the external panel, which is available in a variety of stylish designs. Internorm entrance doors are incredibly secure, with RC2 as standard. With some of the front doors achieving an incredible thermal efficiency as low as 0.55 W/(m2K), these doors are ideal for low-energy and Passivhaus selfbuild and renovation projects.
Window or no Window, that is the question
Do you prefer a solid door and let the design speak for itself, or one that includes windows to let light through into your hallway? Whether you like the look of a front door with one long glazing panel or a design with square glass features is purely down to your personal preference. There are options to suit all tastes.
In addition to the windows incorporated in the door itself, you can of course, also opt for glazing to the side and above the front door. Side lights and fanlights add an additional design feature to your entrance and can create a real wow effect. From frosted, etched or structured glass, each front door can be tailored to your individual requirements. We can now even include your house number etched into a glass panel in the front door.
Handles and Accessories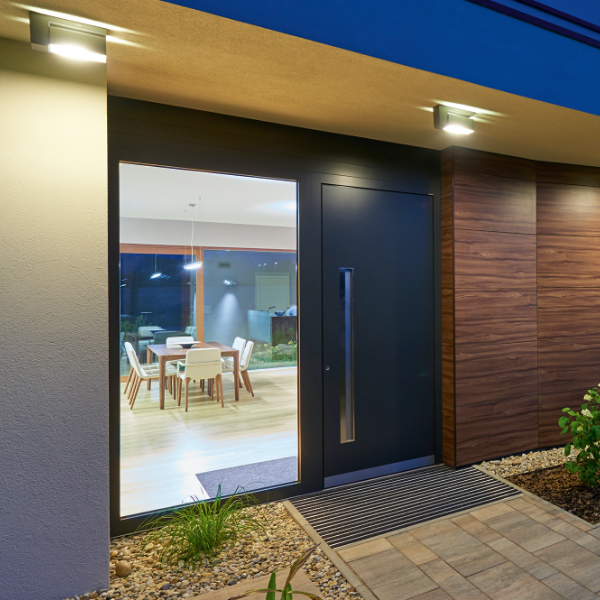 It is the little touches that will make a big difference. There is a stylish selection of entrance door handles available, and your local Internorm partner will be able to show you samples and offer advice on which handle works best for your front door. Do you like the look of a flush recessed handle, or do you opt for solid handle bars or a more traditional lever handle? Many Internorm front door handles are available in sleek stainless steel but also a contemporary black finish.
To really transform your door, LED lighting is available not only in some of the handle options but also at the bottom of the front door panel – the light helps at night, but it also creates a stunning design feature.
Before you leave your home, do you do a quick check of your appearance? If so, the optional full-length mirror on the inside of the front door is ideal for you.
Your Finger is the Key

No more tedious searching for keys, thanks to our fingerprint scanner or keypad option. These intelligent entry systems are attached to or integrated flush into the front door sash or handle.
With the new ekey-dLine fingerprint scanner, keys, cards, or codes are no longer forgotten, lost or stolen. This intelligent software learns with every use and even recognizes children's growing fingers or changes in user habits. The system can be integrated into your Smart Home system via Wifi and therefore offers countless features, including remote opening or push notifications when the front door is being opened. Even a quick 'Alexa, open the door' will activate if you are busy doing something else.
The slim and more traditional keypad option is installed directly into the door sash or on the wall next to the front door, and the lock is opened by your individual four to ten-digit code.
Up to 99 codes can be programmed with both the fingerprint scanner and keypad, allowing you to manage and limit the access of individuals to certain times or days, for example, cleaners.
What design reflects you: Ultra-Modern or Stylish Traditional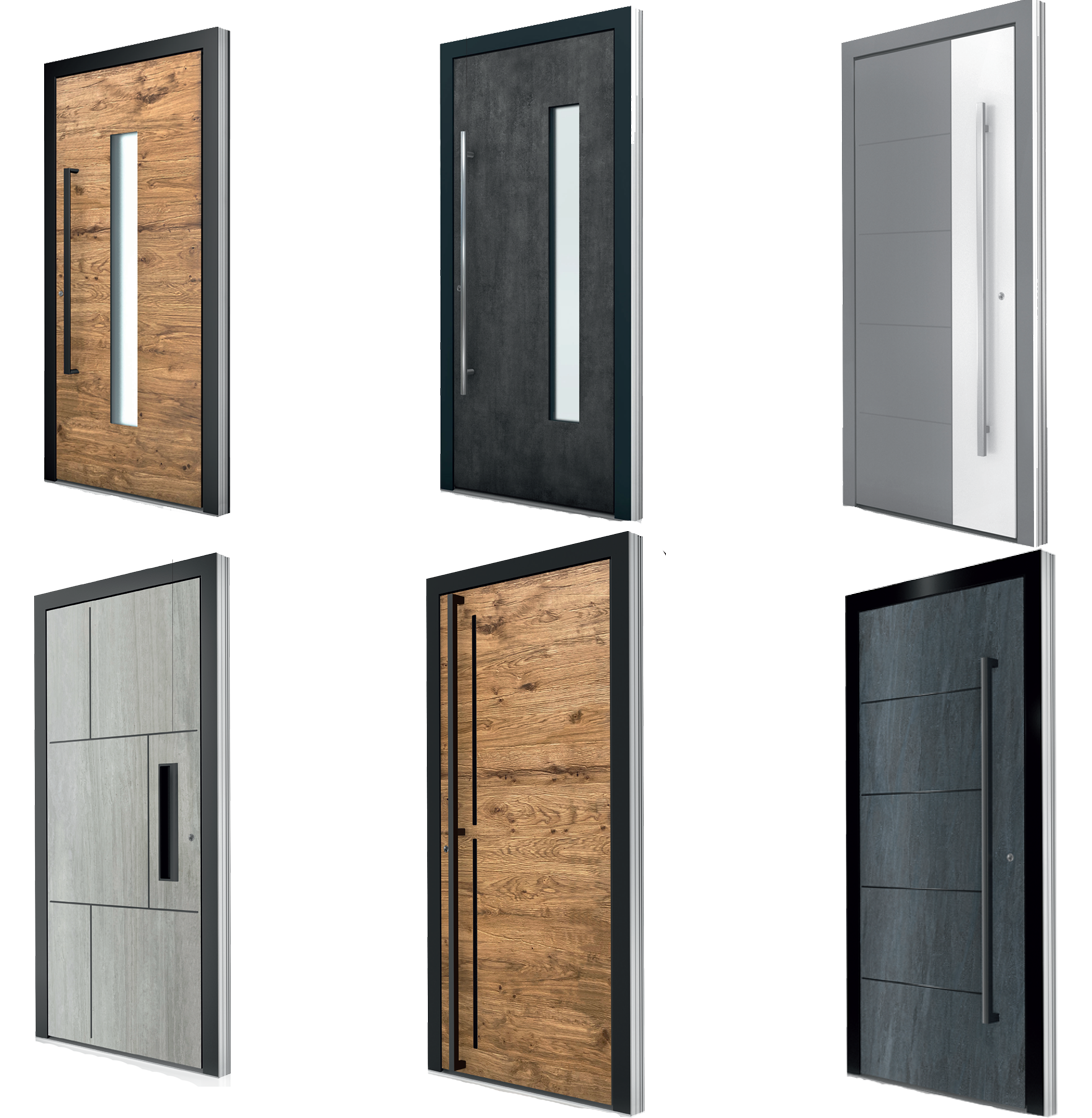 Internorm offers an array of designer panels and combinations that instantly alter the look of your home. Add a kerb appeal just by changing your entrance door. Make a statement, be bold. Or be subtle and choose neutral colours. Whatever you decide, you know that by opting for an Internorm front door, you choose quality, performance, design, innovation and, most importantly, the highest security.
If you have a spare 10 minutes, why not go on our Internorm Door Designer and design your own front door? It's great fun and so easy to do. You can even upload a picture of the front of your house and see what your newly designed front door would look like. It will also give you an indication of the cost; however, please bear in mind that this is only a rough calculation and does not include installation or survey.
When you are ready, contact your local Internorm partner to discuss all options and to get a final quote. To find your local partner, simply enter your postcode on our home page.
We look forward to making your personal Internorm entrance door.