Triple glazed windows are a great way to transform your home into the home improvement solution you desire. With many advantages, your windows can become versatile and multi-purpose, all whilst saving money on your energy bills; interested? Read below to discover some more incredible advantages of triple glazing windows.
Energy Efficiency
Are you thinking of upgrading your windows to a triple glazing solution? You will have a completely thermal efficient and stylish design that can be fully bespoke to your needs and requirements. At Internorm, our triple glazed windows ensure that you can take advantage of U-values as low as 0.62W/m2K), which is below Certified Passive House Window Standards of 0.8W/(m2K), at no additional cost! What more could you want?
Reducing Noise Pollution
Aside from the fantastic thermal properties that our triple glazed windows offer, they also provide a huge reduction in noise pollution so that you can keep your privacy and family conversations within your home. Your space should be somewhere to relax and be open whenever you wish. Ideal for properties in urban and built up areas, this feature has been designed to keep your home comfortable and safe.
Weatherproof
Another advantage that triple glazing provides is its adaptation to the British weather. Your windows ensure that they are less susceptible to condensation – unlike double glazing, it's much more difficult for water and air to build up between the individual panes. This makes them more secure against adverse weather conditions and unpredictable natural elements.
Secure
As the triple glazed window material is durable and robust, your property will have increased security against potential intruders. Security is a key feature when considering a home; at Internorm, we offer the very best standard of triple glazed windows that feature the latest mocking mechanism technology to ensure that you and your family are safe.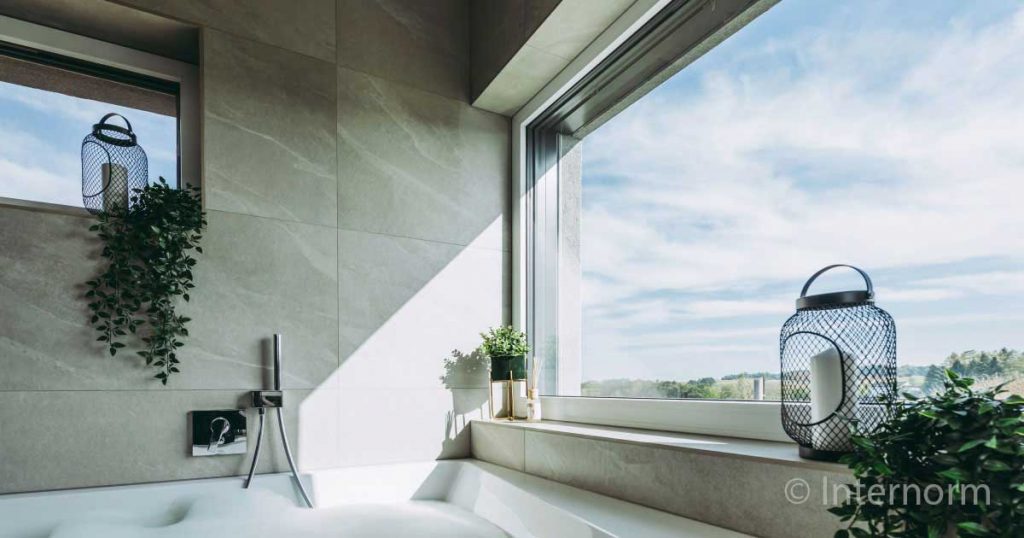 Your Triple Glazing Window Options
Our selection of triple glazed windows are all energy efficient, with low U-values and offer excellent thermal insulation. You are guaranteed to see a decrease in your energy bills whilst reducing your homes carbon footprint – you can choose from modern or minimalist styles with a completely bespoke option. At Internorm, we have the features to allow you to make this experience entirely your own; we cater for everyone.
Timber Aluminium Windows
Our timber aluminium windows create a long lasting and striking composite solution. Aluclad windows will produce a homely feel for your property, these are not just aesthetically pleasing, but they are also a wonderful energy efficient option. These windows feature a weatherproofing aluminium clad which protects your timber from fading or peeling whilst the windows provide U-values as low as 0.62!
uPVC Aluminium Windows
With the incredible sound reduction, thermal performance and security across all designs, our selection of aluminium uPVC windows are eco-friendly, with U-values as low as 0.62. Adding to this, our windows are customisable in colour and design, allowing our manufacturers to edit your windows according to your preferred size, style and individual requirements.
uPVC Windows
uPVC windows are an incredibly popular design amongst homeowners looking to upgrade to triple glazed windows. Their versatility, energy efficiency and hardwearing properties can all be tailored to suit your personal needs and requirements. Our range of high performing triple glazed windows all offer a fantastic choice for all types of renovations, like extending or upgrading your residential property.
I-tec Innovation Technology
It's important to remember your shading options, especially with large scaled glazing projects. Our unique I-tec integrated blinds can allow you to control solar radiation whilst allowing light to enter freely into your home. This can be integrated within your new Smart Home system – giving you the power to control your property without moving a muscle! Additionally, our other I-tec innovations provide every homeowner with the extra option to entirely fulfil your triple glazing window journey – discover our full range of Internorm's I-tec innovations on our website.
Contact Internorm for Your Triple Glazing Solution
What are you waiting for? If you are looking for a sustainable option that combines both style and functionality, Internorm's triple glazing windows are the perfect choice for your home.
Our team of friendly faces always strive to make sure that our customer's needs come first and provide the very best customer service. All our Partners are professionally trained with in depth knowledge, ensuring that all your new windows are installed with no added worry or stress.
Discover our wide selection of triple glazed windows today! Contact us to speak to a team member, or use the 'Find Your Distribution Partner' button to discuss your new home improvement solution.
We look forward to hearing from you soon!