A front door offers protection privacy, and most of all, it is the main entrance to your home! However, it's important to realise that not all doors are the same. Doors come in various materials and design styles, so you have to pay attention to the quality, artistry and functionality to ensure that you are investing in the right door for your home.
With these below top tips, you will be perfectly prepared for your next front door purchase.
1. Choosing the Right Material
With Internorm front doors, you can choose between wood-aluminium or aluminium. Regarding the wood/aluminium doors, you can choose a surface from the various types of wood, from spruce and ash to larch, walnut or oak. Wood designs, in particular, provide a warm and comforting aroma to your entrance.
On the other hand, modern designs and timeless elegance are reflected in our aluminium entrance doors, where various designs and colours are available. When selecting any design, it's important to orient any design towards your home's character. For a consistent and identical style, your front door can be perfectly blended seamlessly with your window systems, thanks to our large selection of materials and colours. In addition to classic material, there are also new trends such as front doors with a concrete, rust, stone or steel look. Get in touch with Internorm to discover your door options today!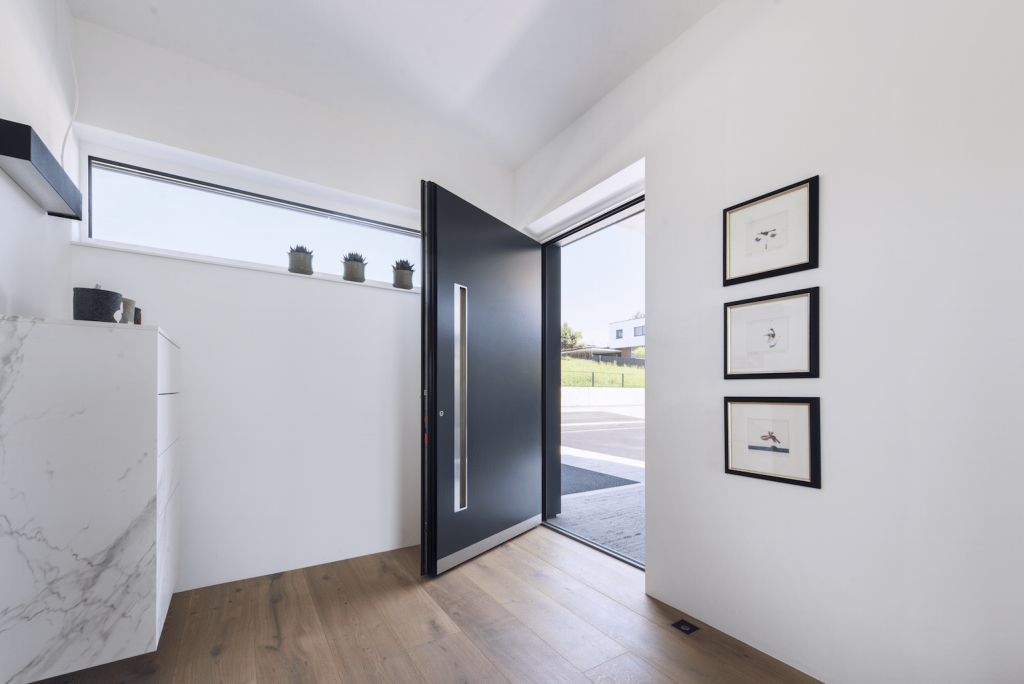 2. Light Cut-Out and Side Panel
Our added choices of light cutouts or side panels give your new front door a personal touch. A light cut out, also known as the glass cut out or glass insert, is a fixed opening within the door closed by a pane of glass. In contrast, a side panel is a fixed lateral frame that complements the front door, usually filled with glass, aluminium or wood-aluminium. These details bring additional light accents into your interior and make your front door appear more spacious.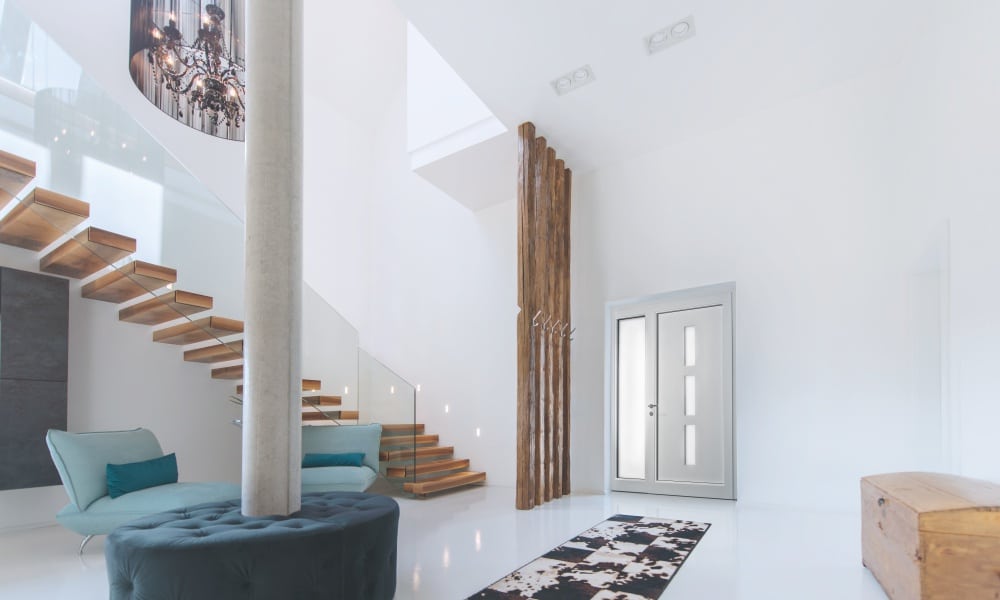 3. Pilaster Strips and Grooves
In addition to light cutouts, your new front door can be refined with vertical or horizontal decorations, known as pilaster strips and grooves, which is extremely eye-catching for you and potential guests to enjoy.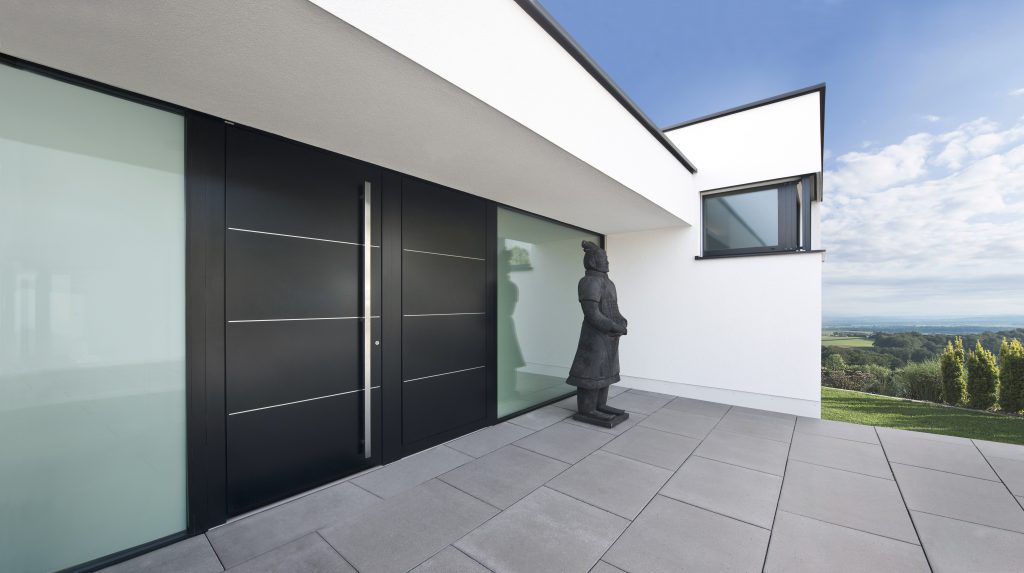 4. Door Hinge
Another element to consider is the door hinge. This is known as the hardware, which fastens the door and fixed frame in the wall. A concealed hinge system allows the door to be integrated into the living space without disturbing any hardware parts so that the hinge is not visible from the outside.
5. Door Leaf
The last distinguishing feature in front door designs is the door leaf. Here you can choose between a full surface and profiled door leaf. Full surface means a completely smooth door leaf, where the door can be installed flush with the outside of the wall. On the other hand, the profiled door leaf is strongly built – i.e. it has a profile. Additionally, you can enhance the door leaf with LED lighting integrated into the handle or the floor threshold to create your desired entrance area.
Finishing the Door
The door may be visually appealing, but if noise, unpleasant odours or cold draughts penetrate it, these can be downgrading factors. When investing in a new front door, you should pay attention to the quality, insulation, thermal insulation and soundproofing abilities. Wood-aluminium doors consist of composite wood, thermal foam and aluminium. Meanwhile, aluminium doors comprise a multilayer panel structure, ensuring excellent insulation. Wood/aluminium doors are suitable for low energy passive houses due to their composite materials.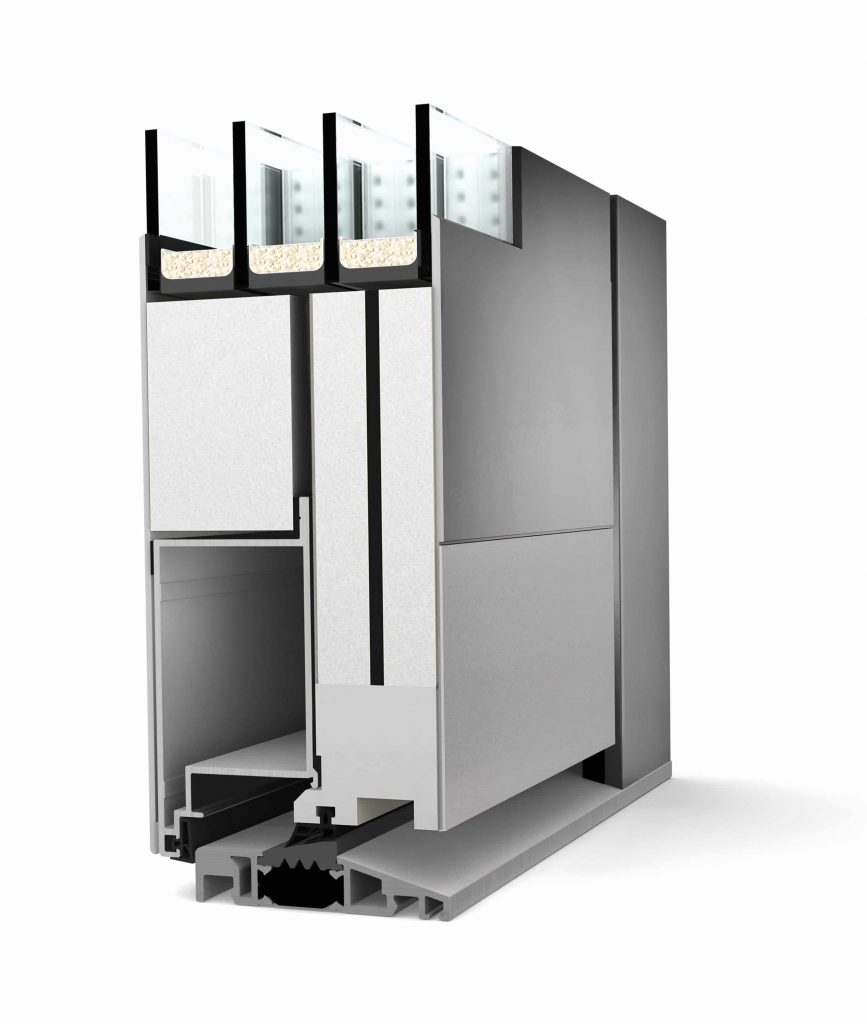 Which door best suits your home?
Section wood-aluminium front door
Wood-aluminium door
Section aluminium front door
Aluminium door


The threshold is also essential for the insulation of your new front door. At Internorm, our thresholds are made of stable and heat insulating aluminium. Two aluminium profiles are joined in the middle using plastic bars to reduce heat flow from the inside and outside. In technical jargon, this is called a thermal break.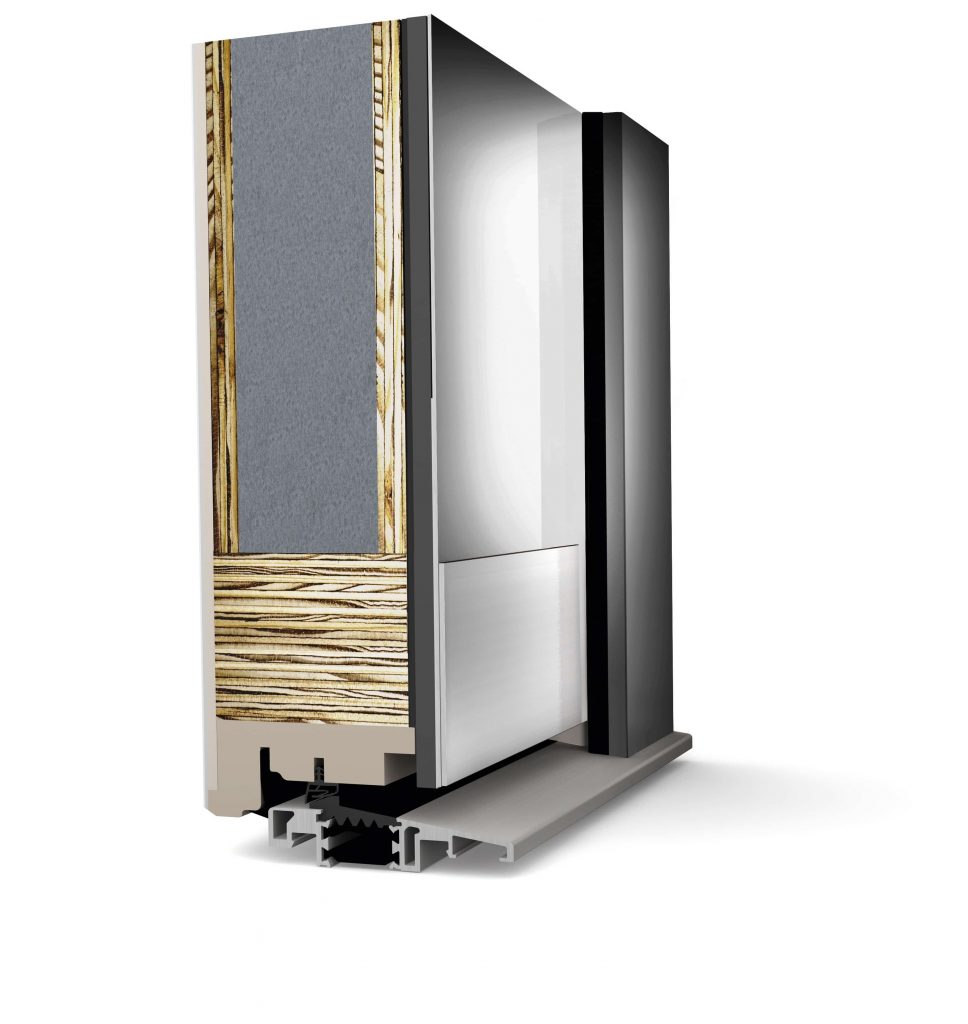 Protection and Security
Your front door acts as a protective shield, especially against any intruders. However, this protection is only guaranteed by the correct locking system. Internorm front doors are equipped with a mechanical multi-point lock (MV) as standard and tested by the renowned manufacturer KFV to the highest resistance class RC2. This fivefold protection consists of the main bolt, two steel bolts, and two swivel bolts to ensure high stability with three solid door hinges. The cylinder can also be locked on both sides, even with a key inserted on one side!
Your Dream Door in Just a Few Steps
Whether you choose our wood or aluminium front doors, with or without glass cutouts, our door designer can configure an entrance door according to your needs and requirements.
You can get professional and personal advice on your new front door from one of our sales partners in your area. It is also worth visiting one of our showrooms to get an overview of the variety of doors that we offer. With this in mind, nothing stands in the way of your next door purchase – get in touch with Internorm today!