What is a Passive House?
Passive House is a building standard that enables you to build comfortable, low energy and insulated homes whilst reducing your ecological footprint. Being established in 1996 by the Passivhaus Institute, the main focus of a Passive House building is to ensure that your space reduces the requirements for heating and cooling.
Used more in new builds, Passive House windows need to be twice as efficient as your standard window and must not exceed a U-Value of 0.8 W/(m2K) along with other specifications.
At Internorm, we offer a range of Passivhaus window systems that are designed to meet the needs and main requirements for a 'Passive Home'. Combining materials and innovative I-tec solutions, our products will significantly lower the demand for central heating whilst ensuring high levels of airtightness and thermal comfort – not forgetting solar shading and clear ventilation as well!
Becoming Passive certified means that you will need certain elements to adhere to their regulations, so what do you need to know?
Passive House Designs
All Passivhaus designs must undergo energy testing, which ensures that each Passivhaus Planning Package (PHPP) target is met, therefore completing the quality assurance process.
Buildings classified as Passive House are characterised by high levels of comfort with low energy consumption, normally achieved through Passive House components, (e.g., windows, insulation, heat recovery). Passive House means a standard construction – looking like a conventional building. It caters for exterior looks and construction, so no matter your style of building, Passive House components can complement your current design.
Passivhaus components have regular independent testing; this allows comparisons and tasks for the designers to specify correct high quality and energy efficient products for certain environments. g.
Benefits of being Passive House Certified
• Increase in property value
• Monitor your energy consumption
• Ensures more efficient installations
   •  Recognition as being Passive House certified
Key Principles that Lead to the Passive House Suitability
Passive House Windows
With triple glazing frames and insulated windows, homeowners can enjoy incredible thermal efficiency and performance, which is especially helpful during the colder seasons. Triple glazing has become the new golden standard, overshadowing the outdated performance of most double glazed home improvement solutions.
Thermal Insulation
A vital part of a Passive House suitability is a well-insulated building that keeps warmth in throughout the cold weather. Homeowners can also benefit from uncomfortable heat being reflected during those hotter seasons.
Airtightness
Having a continuous airtight outer shell will ensure a well-protected building structure that prevents energy losses whilst improving the comfort within the home.
Lower Central Heating Costs
Surprisingly, a Passive House building is planned without thermal bridges to ensure lower heating costs and prevent any building damage.
Ventilation Strategy
There must be consistent fresh air that flows throughout the ventilation system. With a heat exchanger, it will supply the air to each room at the same consistent temperature without the need for your radiator to kick in – saving you money on your energy bills.
Passivhaus Certification – What's the Difference?
As the Passivhaus principal has been spreading all over the world, Germany has advanced the Passivhaus certification. Dr Feist, who founded the Passivhaus idea, is the owner of the private organisation "Passivhaus Institut" in Darmstadt, which developed this building standard 20 years ago and managed to spread it into many countries.
The independent test centre Rosenheim (like the BBA in the UK) has developed a new Passivhaus certification for windows and thereby has
achieved an official standard. Dr Feist is only interested in the thermal performance, whereas Rosenheim is also interested in the physical tests of the window and its performance, like water tightness, air permeability and shock resistance.
The thermal performance of Rosenheim's certification is more detailed – it does not state the PSI or Uf value, but instead details the temperature factor of the glass edge and of the main building. It also measures the average
temperature factor of the frame profile as well as the Uw installed.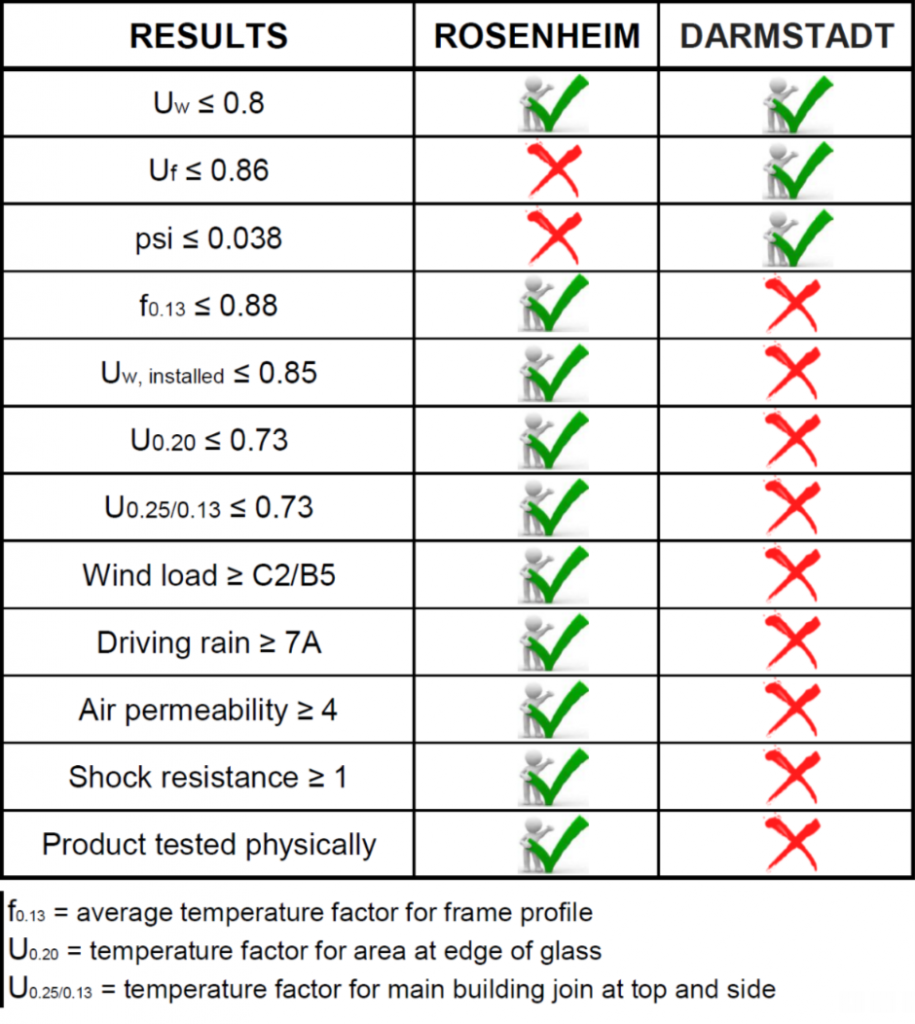 How to Build your Passive House Property
Are you looking to build your Passive home? Why not start by replacing your windows with an up to date, stylish and energy efficient solution: Passive House Windows. Internorm UK provides a range of triple glazed windows that you can benefit from due to their thermal efficiency and low U-values, which are below the standard Passive House Window regulation – at no additional cost!
Contact a friendly member of our team today, discover your local Internorm Window Partner, and see what Passive House windows are can do for you. Whether that's our Timber Aluminium, uPVC Aluminium or uPVC Windows range – get in touch today!
We look forward to hearing from you soon.