What is Passivhaus?
Passive House is a completely voluntary standard for anyone who wants to build or renovate their home to a low-energy environment. This has become more popular in the UK and is normally based on reducing heating to a lower level rather than relying on renewable energy sources. The standards exceed those of building regulations and are so popular due to the various ways you can achieve a Passive House.
So, how can you achieve this, and how much will this cost you?
How Can You Achieve a Passivhaus Standard?
It's important to note that Passivhaus only applies to new buildings and must be designed from the ground upwards. The Passivhaus Planning Package (PHPP) discusses all the construction details needed to fulfil this but can usually be built through any method.
There are many benefits of Passivhaus' universal features:
Low heating demand: Space heating demand of less than 15kWh/m2/yr. 90% less energy than the average home and 75% less than an average new build.


Insulation: Exterior walls achieve a U-Value of less than 0.15 and are designed to minimise thermal bridging.


Passive House Windows: U-Values less than 0.8.


Airtightness: Less than 0.6 air changes per hour at 50 Pascal – 20x more airtight than a standard build.


Ventilation: Over 80% heat recovery from ventilation exhaust providing fresher air and keeping the heat within the home interior.


Solar gain: Retaining heat from the sun easier.
At the end of 2020, around 1,500 dwellings across the UK achieved the Passivhaus accreditation, according to the Passivhaus Trust, so it's no surprise that even throughout a pandemic, these certifications were significant for certain households.
Advantages of Building to Passivhaus Regulations
Lower energy bills and lower carbon emissions due to low heating and cooling requirements.


Sound reduction due to triple glazed windows and thicker insulation.


The air quality is cleaner and pure with consistently fresh filtered air.


Cosy room temperatures without any draughts or cold spots in the winter months, along with cooler rooms in the summer.


Less chance of mould growth and condensation due to the lower relative humidity.


Low maintenance costs as there is no need for heating and cooling systems.
Passive Houses do not just save you money over a longer period, but they are affordable from the start due to the elimination of heating and cooling systems. From a 2016 statistic, there are approximately over 60,000 Passive House buildings worldwide built in almost all European countries – the sustainability and eco-friendly benefits of this building method is a perfect way to improve your carbon footprint.
Passivhaus Costs
Building Costs
The overall cost of Passivhaus is hard to say. Rough estimates for a cost vary between 10%-25% of the building cost. The cost can be affected by whether a certification is wanted. The Passivhaus Institute acts as a training and certification centre – it charges around £1,500 to certify a house, although it's important to note that this is not compulsory.
Other studies that have taken place across the UK provide different figures; the breakdown of costs vary depending on what you want renovating if a certification is needed, and any other additional measurements.
Heating Costs
Passivhaus aims to reduce space heating requirements to a low enough level that you should no longer require a conventional heating system. There is no set method for providing space heating. Still, the most popular seems to be adding a smaller heating element into the ventilation system, which turns into warmer air – these kick in when the outside temperature is closer to zero. The prices can vary per month through various Passivhaus methods but at much lower costs than standardised heating bills.
Passivhaus Certification – What's the Difference?
As the Passivhaus principal has been spreading all over the world, Germany has advanced the Passivhaus certification. Dr Feist, who founded the Passivhaus idea, is the owner of the private organisation "Passivhaus Institut" in Darmstadt, which developed this building standard 20 years ago and managed to spread it into many countries.
The independent test centre Rosenheim (like the BBA in the UK) has developed a new Passivhaus certification for windows and thereby has
achieved an official standard. Dr Feist is only interested in the thermal performance, whereas Rosenheim is also interested in the physical tests of the window and its performance, like water tightness, air permeability and shock resistance.
The thermal performance of Rosenheim's certification is more detailed – it does not state the PSI or Uf value, but instead details the temperature factor of the glass edge and of the main building. It also measures the average
temperature factor of the frame profile as well as the Uw installed.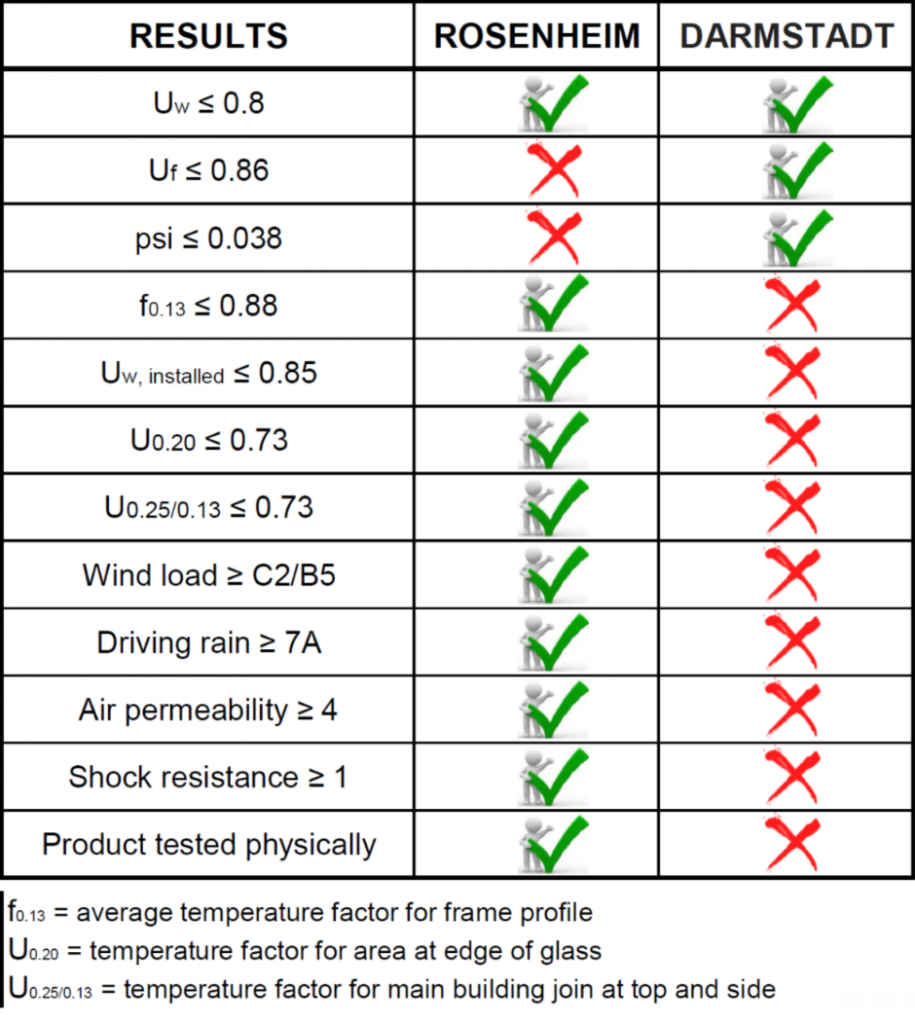 Begin Your Passive House Journey
Internorm provides an exclusive range of double and triple glazed windows. You can benefit from increased thermal efficiency and reach U-Values as low as 0.62 W/(m2K), below Certified Passive House Window standards of 0.8 W/(m2K) at no additional cost!
Our Passivhaus products are flexible in design with a variety of customisable modern and traditional options available so that you can carry through your home style no matter the changes or building requirements.
Find your local UK Internorm Window Partner today and contact us for more information on all of our Passivhaus products and see what you can discover!