Situated on a small hill, this stunning modern home is a perfect example of what can be achieved with Internorm windows and doors when the client and Internorm distribution partner work closely together.
The homeowner considered other Internorm distribution partners but decided on Spectrum Architectural Glazing after meeting with them at their showroom in Newport.
"We were introduced to Internorm at the design stage through the architect. The design of the windows was fairly advanced in terms of the products that we were looking for, but once we got involved with Spectrum, we did make a few adjustments to the specification based on their recommendation. Their involvement, especially with the large north-facing window, was important."
Stunning House with a View
An old bungalow, which occupied this large plot, was demolished to make way for this three-storey contemporary, energy-efficient Passive House certified newbuild with high ceilings and a beautiful open staircase connecting the ground floor bedrooms to the upper floor living and office areas.
To make the most of the stunning views over the garden and the Yorkshire countryside, 14m of fixed timber-aluminium glazing was installed on one side of the building on the upper level. Light from the large glazing fills the contemporary open plan living and dining area, creating a calm and bright space. French doors with Juliette balconies were added on the side at the suggestion of Spectrum to allow the owners to enjoy fresh air and uninterrupted views.
"Theoretically, Internorm could only manufacture up to 11m, but via Technical Request, we were able to reach the full span of 14m in one continuous frame, avoiding bulky coupling profiles, which would have resulted in unbalanced mullion sections. Our client is very detail orientated, and everything had to line up to the millimetre. Getting this in one frame was a massive focus and achievement for this project," said Silje Otte, Project Manager at Spectrum.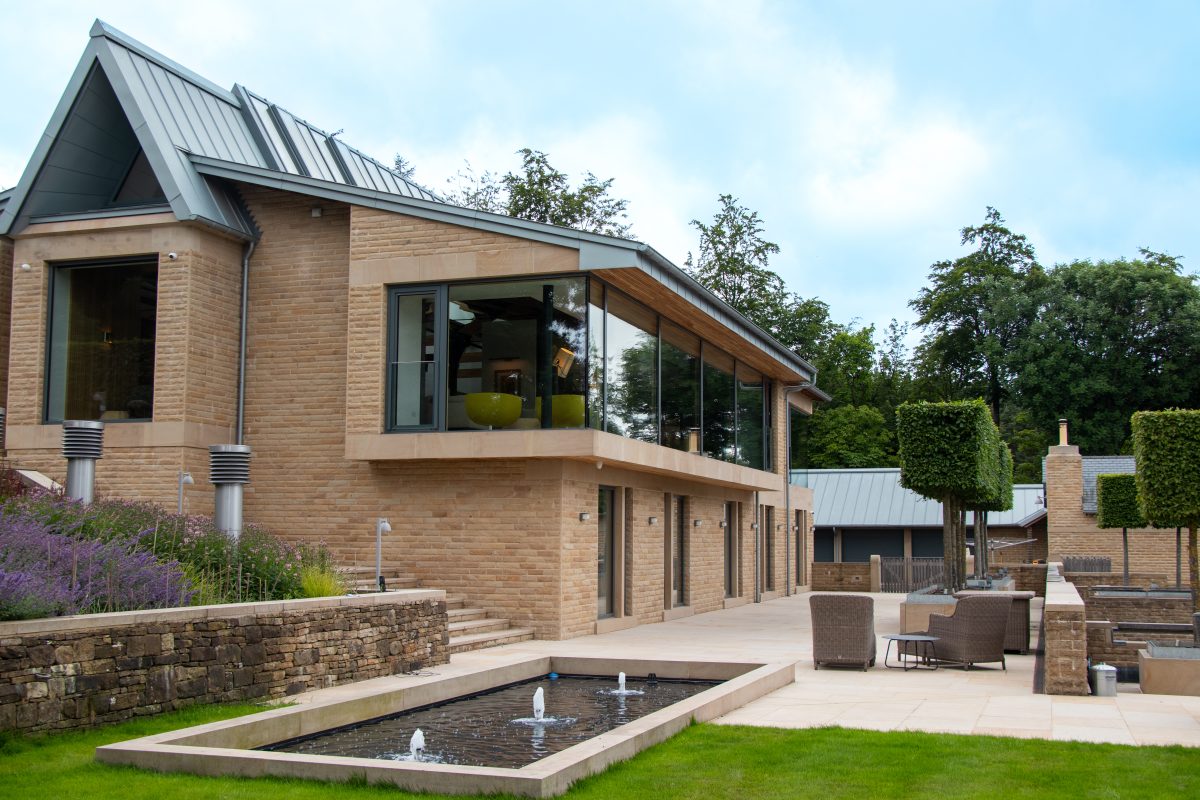 Key Considerations when Choosing Windows and Doors
The owners previously lived in a 'leaky old farmhouse'. Having decided on building not only to Passivhaus standard but also achieving certification, the windows and doors were a key factor in achieving this goal.
All Internorm triple-glazed timber-aluminium windows and doors in this building achieved U-values well below 0.8 W/(m²K), as required for Passivhaus.
Read more about Why Internorm Products are Ideal for Passivhaus.
What were the Main Challenges, Especially in Achieving Passivhaus Certification?
"The site had several challenges, both in terms of the orientation and topography. We probably worked for three years with the architects to get the design finalised before we started construction. Our primary views are facing north, and we wanted to take advantage of that", explained the homeowner. This created a challenge for this Passive House certified home, where you are encouraged to limit the amount of glass on north-facing elevations.
Due to the scale of the project, Spectrum had three fitting teams on site, and the installation took five weeks to complete – in cold winter temperatures! On some mornings, the installers had to battle with ice on the driveway, which meant that the vans struggled to get up the slope to the site. The existing beautifully landscaped garden, lawn and existing trees also had to be considered and protected during the build, especially when setting up the crane.
As this is a Passivhaus certified project, air tightness and thermal bridging was an important consideration in the installation of the windows and doors. Spectrum's own installation teams work to the highest standard, whether it is a Passivhaus project or not. Ultimately, the product is only as good as the installation.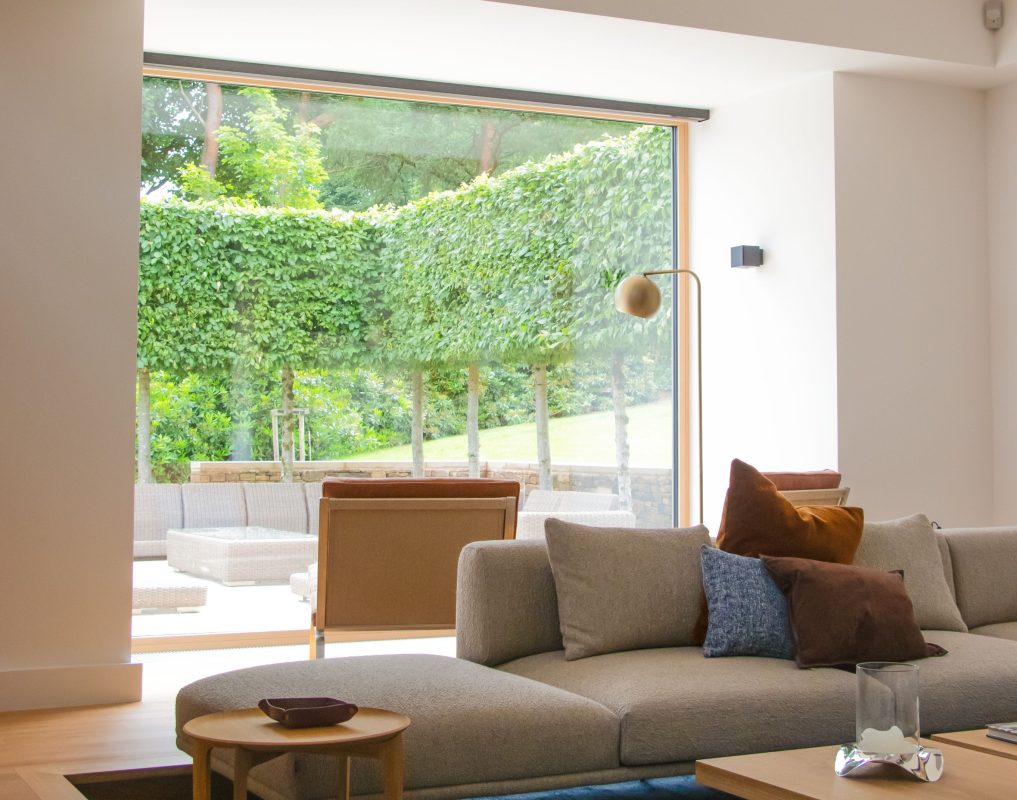 Internorm Products used in this Passivhaus Certified New Build:
The client required a high-performance, architecturally stunning, Passive House design and already had experience with Internorm windows on a smaller project. After consultation with the architect, he chose Internorm windows and doors for his Passive House certified project:
Colour/Finish: Ash (ES800) inside and HFM 05 outside

Credit: One17 Design
Close Relationship with the Architect
The client also worked closely with their architect, Mark Lee from One17 Design, who was very pleased with the finished project: 
"It's been lots of fun! The quality of a scheme greatly depends on the relationship between the client and the architect. In this case, there was mutual respect for each other's abilities and a desire to see those fully expressed. A shared vision and meticulous attention to detail pushed us forward every step to achieve the best and not let each other down! 
The Passivhaus certification was a project requirement but not something that dictated or became the architectural driver of the project. The design aesthetic is determined by a host of factors, of which energy efficiency is just one. A desire for longevity and how to layer a large-scale building into a sloping rural site were just as important.
The result is a fully resolved formal design achieving Passivhaus certification, completed with the best available materials and components where a strong aesthetic guides every detail from the external shell through into the interior design, which also incorporates a lot of One17 bespoke furniture – I can't be unhappy with that!
The success of the building is not just in its architectural quality but in being able to capture the energy and enthusiasm of the entire build, professional and client team to produce a family home that meets the aspirations of the original design brief; it just happens to be passive as well. Win Win!"
Find your Internorm Partner
If you are planning a Passivhaus or retrofit EnerPHit project, Internorm and its partners have years of experience with helping homeowners not only achieve their dream home from a design point of view, but also create a home, which is highly energy efficient and comfortable to live in.
Find your local Internorm distribution partner on our website. If you require any help with your Passivhaus or EnerPHit project, please contact us. We have a Passivhaus Designer in our team who is happy to offer advice and support.