With so many prospects in the market, figuring out the most suitable material for your front door can be daunting. When choosing a front door, there are several aspects to consider; the most significant are security, durability, maintenance, energy efficiency, and aesthetics.
At Internorm, we want to outline the benefits of different types of material so that you can determine which option best suits your needs and make the best informed decision for your home. At Internorm, we manufacture and supply aluminium and timber aluminium front doors in various styles, which are fully bespoke and made to measure.
Aluminium Front Door
Let's look at the properties of our aluminium front door. Aluminium is an inherently robust and durable material which requires little to no effort to maintain, thus keeping the entrance of your home looking fresh and clean with a simple wipe down. Apart from its sleek and minimalist design, it also boasts U-values as low as 0.75 W/(m2K), which means it is an excellent heat insulator and will retain the heat in your home. With the rising energy costs, you can potentially save up on the heating bills with less need to turn on heaters.
Whether your property has a traditional or contemporary style, an aluminium front door can seamlessly blend in and create a visually appealing outlook of your home. We offer stunning RAL shades and finishes, so you can make your entrance as bold or subtle as you want. Sunlight filtering through your front doors and windows can create an exquisite ambience for the interior of your property, and you can achieve that lush semblance with our architectural glazing options.
Creating a safe and comfortable environment is of utmost value; feeling a sense of security in their home is vital to any homeowner. We understand this and recommend you invest in our range of aluminium front doors accredited with Secured by Design and PAS24 tested. All our aluminium front doors come with a 5-lever locking system, the highest standard for security. You can always add extra security accessories like door blocks, cylinders and signal lights. Another valuable feature of our doors is noise reduction of up to 32 dB so that you can destress as soon as you shut the door and enjoy moments of quiet zen mode in your home.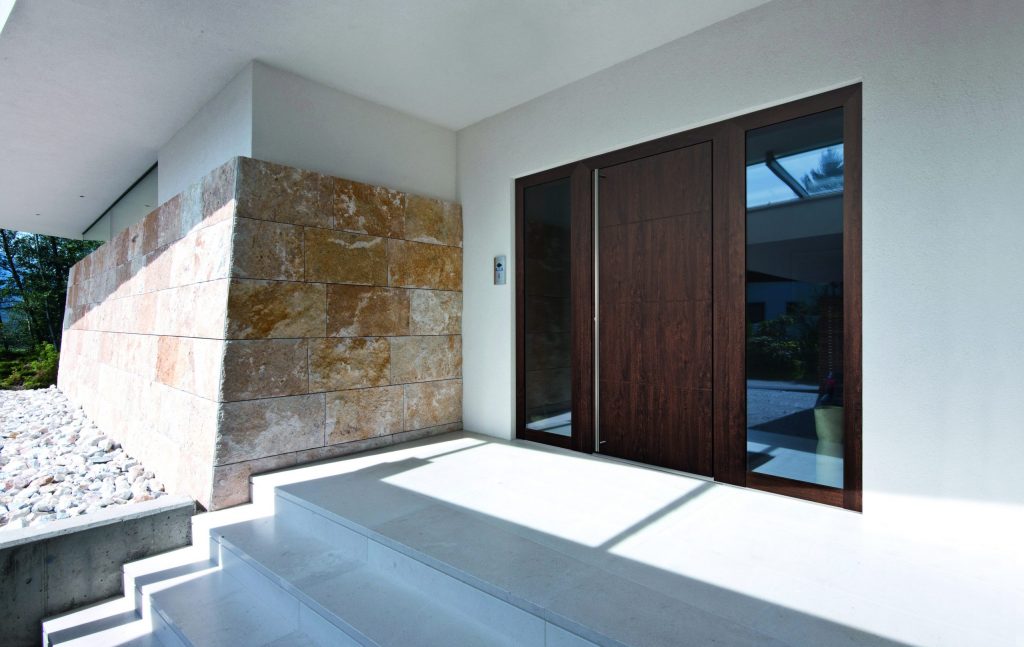 Timber-Aluminium Front Door
If you love the feel of hardwood but not so much the demanding maintenance and upkeep timber requires, you can opt for timber aluminium front doors. The interior of the door has a timber finish which can flawlessly blend with hardwood flooring and our timber aluminium windows. The door's exterior is of aluminium, keeping your front door weatherproof and easy to clean. Enjoying the same accreditations and security hardware as our aluminium front door range, all styles of our timber aluminium front doors come with a 3-15 year warranty. You can be confident in your investment, and in the unlikely scenario of any damage, have peace of mind as you will be fully covered.
Our aluclad front doors are a beautiful addition to your new home and have a U-value as low as 0.58 W/(m2K). To make the interior of your home lush and harmonious, we can design your front doors to match any range of Internorm window systems. For a more traditional style property, we can incorporate profiled glass frames into the design with textured or decorative glazing, giving a charming heritage look widely featured in period homes. Our timber aluminium front door well complements a clean cut contemporary style home. With sleek and modern handles, hardware, and a wide range of stunning colours, your home entrance can be customised to your taste and style.
The best material for your front door is the one that fully satisfies your need and enhances the aesthetics of your home. Here at Internorm, our expert team can help you find the ideal remodelling solution personalised to you and your home.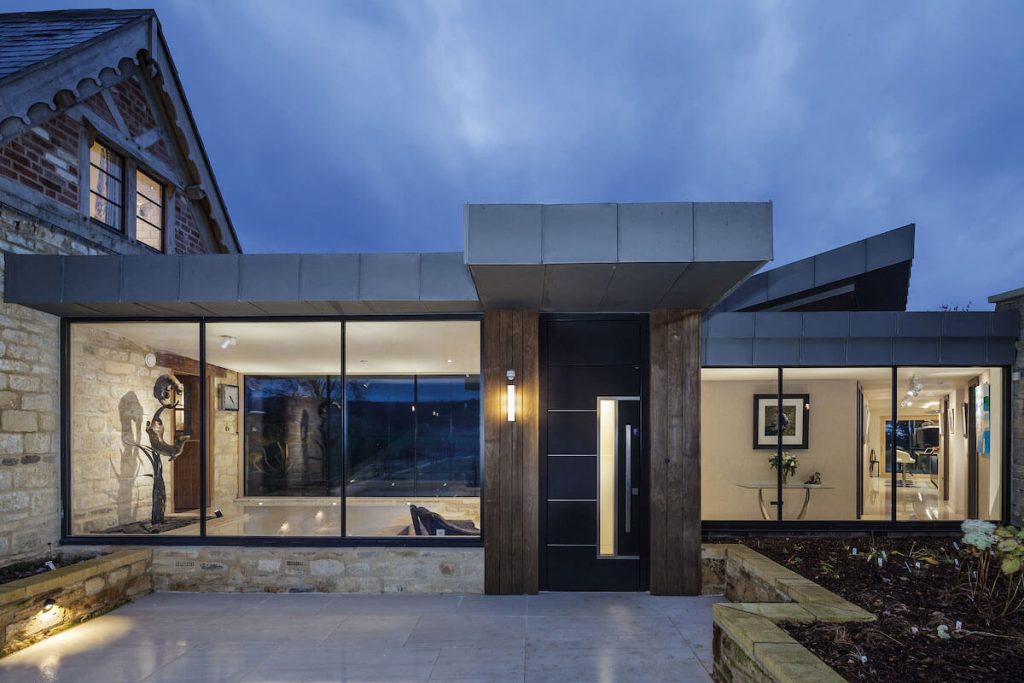 Your Internorm Front Doors
Explore our front door range today and put your ideas into action. You can design your Internorm front door by using our door designer. To discuss your next home improvement project, please contact a member of our team or benefit from the 'Find Your Distribution Partner 'tab on our website.