Who doesn't get frustrated with finding – or losing – keys? Internorm offers cutting edge fingerprint door access for its entrance door and lift & slide door range. Without the need for keys, homeowners can use leading biometric authentication to access their property with no compromise on security.
This technology has been in development for over 20 years. Ekey makes it easier and more convenient than ever before for homeowners and businesses to access the building. These smart solutions are quality tested using rigorous methods, including subjectivity to extreme heat, freezing cold and high humidity.
At Internorm, we partner with only the very best when integrating technology into our premium, award-winning entrance doors. Whether you opt for our high-performance aluminium or timber-aluminium doors, you will be able to create your personal front door to impress any visitors.
Get in touch with your nearest Internorm distribution partner to see the impressive entrance door and accessories options available.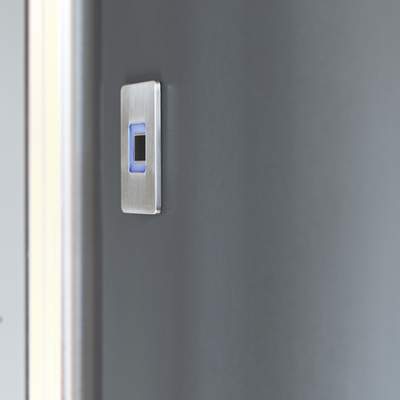 Ekey Technology Benefits
As physical keys are not required with ekey scanner technology, the user has more freedom when entering and exiting the property. The user's fingerprint is stored via an app-linked virtually to the scanner. If the homeowner wished to go jogging or perhaps briefly leave the property, their finger is the key. This frees them up to come and go as they please, without any concerns of getting locked out.
Access authorisations can also be controlled via the app for greater user control. This intuitive technology learns with every use. It is also suitable for children aged six years and above and can adapt to growth, automatically recognising any changes to the fingerprint.
The scanner is almost maintenance free. The device can be cleaned simply with a non-wet cloth or Q-tip. If disinfection is necessary, our fingerprint scanners are highly resistant to common cleaning agents thanks to a durable varnish.
Beyond the scanner interface, we also provide keypad entry for bespoke Internorm doors. The touchpad is backlit and made of glass and is available in anthracite, stainless steel, grey or white. It is integrated seamlessly into the door sash.
Comprehensive Security
Only authorised users can open the door with ekey fingerprint scanners. This technology is estimated to be 1000 times more secure than PIN code technology for bank cards. With end-to-end encryption, it provides the maximum protection against forgery.
Personalised time slots can be added without compromising on the robust security that our Internorm doors provide. The primary user can set different times and days for which other users can gain access to the building.
This is useful in situations where the homeowner may need to leave the property for brief trips, or for allowing babysitters, dogwalkers or any other visitor-controlled access. All user data is backed up on the supporting device. So, if you have a cleaner, who comes on a Tuesday between 10am and 1pm, you can programme their fingerprint to only work during those times.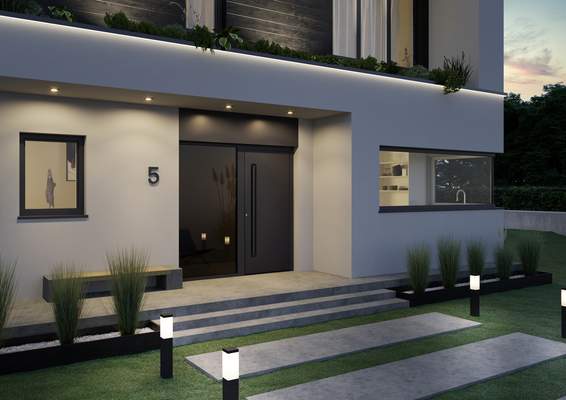 Smooth, Flush Finish
Our ekey technology is suitable for flush mounting, providing a smooth and aesthetically pleasing entrance door. When combined with our award-winning door designs, the technology blends seamlessly into the finish of the door.
View our range of market leading entrance doors today or use our clever Door Designer tool. You can design your very own front door and you can even upload a picture of your house or current front to see what the different options would look like.
Internorm offers a door design to suit any architectural style and personal taste. We provide minimalist designs with discreet groove milling and trims along with unique eye-catching details, glass options, LED feature lighting and a range of stylish handles. Transform your home and create curb-appeal with premium quality entrance doors from Internorm.
Contact your nearest Internorm distribution partner today for information about our ekey entrance technology, or any of our market leading products for your selfbuild or renovation project.