Eco Friendly Renovation Ideas
Home renovation ideas allow you to look to the future and make decisions based on the productivity and versatility of your home. Not only this, eco-friendly home renovation ideas are a great way to do your bit for the planet and result in a more comfortable home to live in for you and your family.
One of the main benefits of planning a home renovation is making your home more eco-friendly. Choosing a plan that improves your energy efficiency will help to lower your energy bills and save you money in the long run. Saving energy can be achieved by investing in quality insulation – whether that's through double or triple glazing, you will save an incredible 10%-50% on your heating bills! A perfect example is our KF410 uPVC aluminium windows with high quality insulation in the frames and glass, keeping cold draughts out and warm air trapped inside. Additionally, these features can increase the overall value of your property, so if you are planning on moving, upgrade your windows and doors and create a worthwhile investment.
It's the simple things like upgrading your old windows to double or triple glazing to add plenty of insulation within your property that make your home more sustainable. Eco-friendly homes can help you save time and money as the materials are easily accessible. Using recycled materials means lower costs and less maintenance as they are constructed to last longer. Why not begin by renovating your windows and doors to begin your eco-friendly renovation idea with Internorm!
Connecting with Your Garden
Why not create a wall to ceiling window? At Internorm, our double height HX300 glazing or our AT410 entrance door creates a contemporary and widespread design – making your first impression perfect when approaching your home.
These products are very popular due to their invisible glass joints. This project scale can be integrated within the brickwork to create a virtually clear attachment between the frame and the glass. So, whether you are interested in a modern design or want to create a home renovation idea, you can give the illusion of wall to ceiling windows – allowing light to enter your home effortlessly.

You can connect the inside to the outside with no hassle. You can watch the outside world from the comfort of your sofa, allowing you to see a widespread view of your garden; this is great for watching children play, BBQ's and sipping hot chocolate on a cold winters day. Combined with our triple glazing, you will be enjoying the outdoors all year round.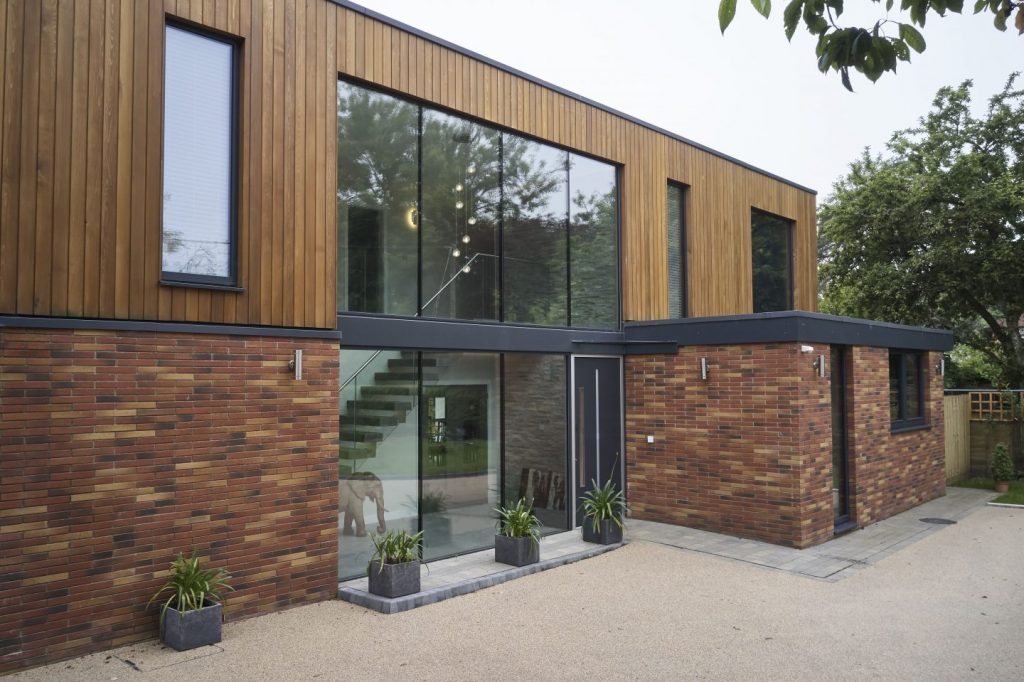 Not Just a Front Door
Make a great first impression with a new front door. Choosing a company with bespoke options allows you to take complete control over your designs. At Internorm, our range of styles are extremely versatile and suit every home renovation idea; aluminium and composite doors provide you with exceptional strength and durability – making them safe and secure for any entrance to your home.
Our doors are made to measure, available through our Distribution Partners. Alongside their stunning visuals, they can transform your home renovation ideas; with our selection of door systems, we provide homes with an ultra-low energy saving solution which once again reiterates their perfect thermal properties.
A prime example of one of our best bespoke doors is the HS330 Lift and Slide Doors; these can also include glass coatings to provide up to 10% more light transmission alongside its standard glazing benefits. At Internorm, we consider our valued customers, and we ensure that you receive the bespoke, secure and durable home renovation ideas you desire.
I-tec Renovations
I-tec innovations come with various advantages to ensure that your new window and door home renovation idea is supported in the best way possible. As your products are bespoke, you can choose to add the following innovations:
I-tec Core
I-tec Glazing
I-tec Insulation
I-tec Secure
I-tec Shading
I-tec SmartWindow
I-tec Ventilation
We have created these products to improve your home's performance and bring your renovation idea to life. We incorporate insulation for your energy efficiency, security to incorporate innovative locking systems, shading for enhanced privacy and light control, ventilation to prevent condensation and mould, lastly Smart Window to let you control every aspect of your products from light openings and so much more. At Internorm, we have a 98% customer satisfaction to help homeowners with their home renovation ideas – what have you come up with?
Your Renovation Ideas Bought to Life
At Internorm, we are excited to provide all our valued customers with a home renovation idea to be proud of. Find your local Distribution Partner today, and we will assist you with the planning and upgrading process of your property. Contact us for any further enquiries and visit our showroom soon!