One of our recent projects, we realised how each home renovates and transitions differently depending on the specific products chosen. The windows and doors installed in this modern Bath property are no exception. Internorm's range of home improvement solutions is fully customisable in both colour and style, as is the case with every project we deal with. So, what products were chosen, and how did they elevate this family's current Bath property style? Let's find out!
Timber-Aluminium Windows
Timber aluminium windows were one of the main priorities in this transition due to their energy efficiency and thermal performance benefits. With the option to have aluclad windows with triple glazing, our clients can now retain more heat for their property which can protect the household against extreme weather conditions, keeping their living space at a comfortable temperature throughout the year. The insulation was naturally built into the frames with the chosen triple glazing windows, offering the lowest U-values possible to achieve Passive House suitability and meet the desired specifications.
These windows have been an endlessly popular option for homeowners over the years due to their stunning craftsmanship and adaptable nature, making them perfect for all types of architecture. Due to this benefit, our clients' modern Bath property was an ideal solution for this timber aluminium project. With U-values as low as 0.62, this home has become sustainable and eco-friendly whilst reducing our client's carbon footprint. They couldn't ask for more!
To make the process more personal, Internorm provides a fantastic range of composite timber aluminium windows perfect for all project types, whether it's a modern property, a new build or grand design homes. At Internorm, our team of professionals helped create an environmental home improvement solution to suit their home in the best way possible, tailoring to their specific sizes, designs and individual needs. Alongside this, we considered the surrounding greenery around the property. We turned this home into the perfect natural living space for people to enjoy in the summer and winter months.
As part of this modern build, we also installed glass to glass corner windows which are a stunning focal point and a growing trend in the home improvement industry. These windows blended seamlessly with the exterior design, and it allows the Bath homeowners to maximise the sunlight to create their own relaxing and calm area within their home. Whatever our clients wanted, we tailored our products to enhance their ideas and give them the experience of having windows that can do it all.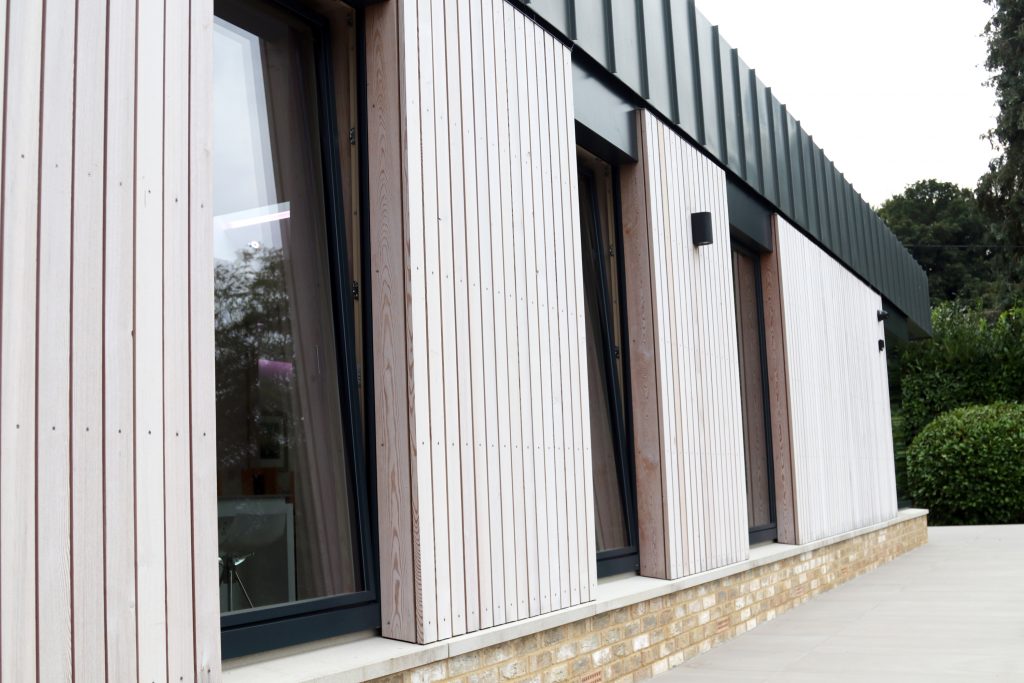 Lift & Slide Doors
Overlooking various levels from the garden to the rural landscape, our client wanted to upgrade their exterior with a lift & slide door. We can see a vast outlook of the outdoors through the door, spanning from one side of the garden to the other. The image below shows that our client enjoys entertaining guests with the number of tables and chairs on the property. Our lift & slide doors allow our clients to enjoy the entirety of their space without limiting it to just the indoors – we invite the outside in with our modern and wide spanning panes.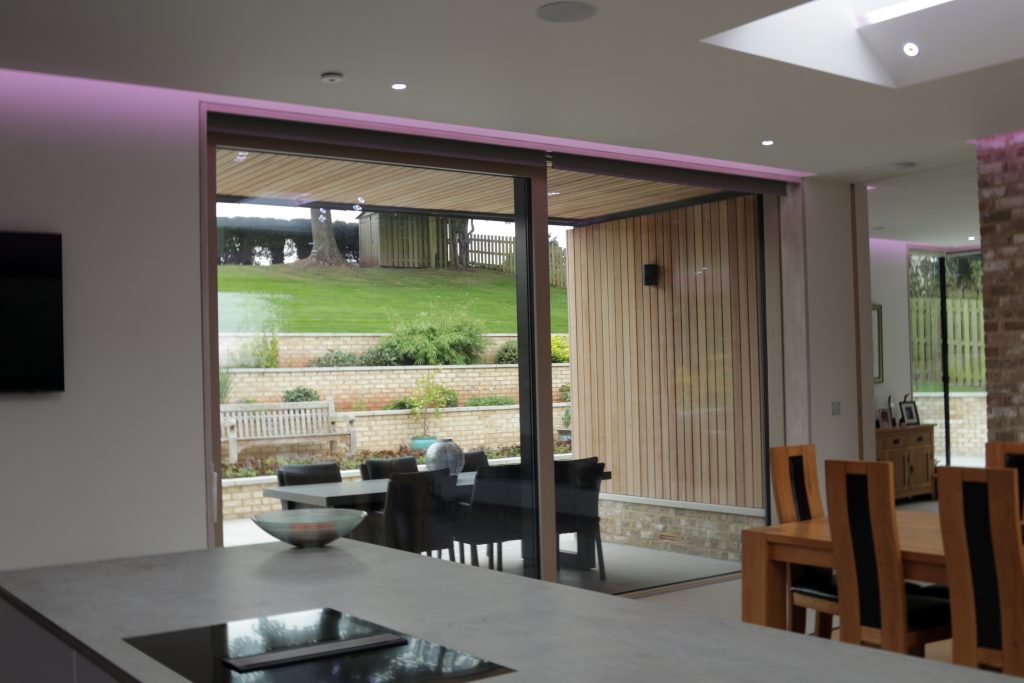 This Bath property was customised to our client's preferences with a bespoke solution. The contrast of the natural timber cladding and grey features of both the windows and doors created a traditional and contemporary feel that enhanced the minimalist lines of this rural property and its countryside setting. One of the key features which stood out to our clients was the floor to ceiling glazing advantages of solar gains and natural lighting creeping through.
With an instant connection between the modern and exciting interior to the green levelled exterior, we have enabled our client to maximise the amount of natural lighting that shines throughout the home. With this, the amount of increased floor space completely amazed our client! The property is guaranteed to be durable and strengthened through these two large glass panes, ensuring that the household has the weatherproof and secure protection they need throughout the year. At Internorm, our lift & slide doors provide the latest hardware technology and premium materials to ensure that all our valued customers get a boost in versatility and a good looking appearance.
Considering this property is within the Bath area, surrounded by the countryside and isolated from other buildings, this gave us the perfect opportunity to provide our client with an open and inviting living space to enjoy daily. Due to this, the homeowner can easily relax with their new energy efficient lift & slide doors. Our selection of glazed products enhances any property to provide a sustainable living space conveyed through this Bath property with an entirely sustainable lift & slide door solution with U-values as low as 0.64!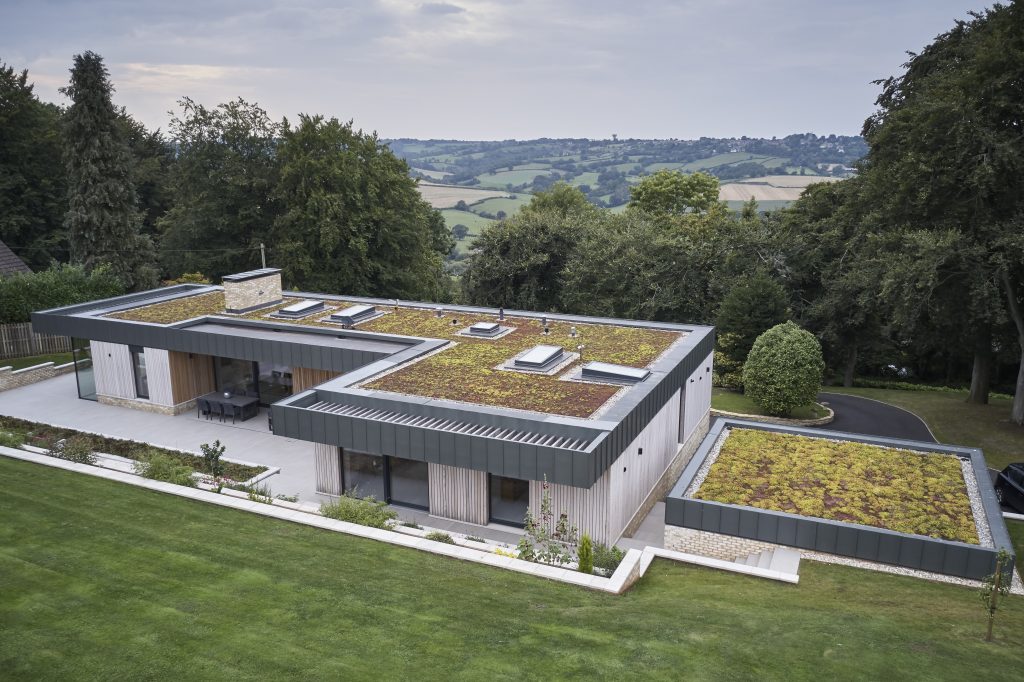 Begin Your Internorm Project Today!
Our expertly trained team of professionals can create the ideal home improvement solution to cater to your home with the desired size, design and personal quirks. Whether you are situated in Bath or any other region within the UK, we strive to ensure that we offer all our valued customers a bespoke, energy efficient and durable window and door solution for your property. Contact us today to discover more about our projects and what your home can achieve.
If you want to create a sustainable home, contact your local Internorm Distribution Partner to discuss your next project.
We look forward to hearing from you soon!