It was the end of July when we visited this stunning complete retrofit project, sitting on top of a hill overlooking the beautiful Kent countryside. Luckily, it didn't rain, but the clouds loomed heavy in the sky, making the view even more dramatic.
After meeting the owners, it was clear that it was the view that they fell in love with instantly. The house they encountered during their initial viewing was an old 1960s building, which had little attention for many years. It was in a sorry state, with leaking roofs and poorly insulated walls, windows, and doors.
Many of their friends, including their builder, suggested knocking it down and starting afresh. However, after getting quotes from SIPs companies, the additional 50% higher cost for a self-build compared to their final renovation costs persuaded them to embark on a full house renovation.
They had engaged an architect at the early stage of the project, but he did not deliver what they were looking for. So, they made the decision to design and project manage the renovation themselves, with the help of their builder friend.
To do this, they decided to move into a couple of rooms in the house after seeking temporary accommodation in friends' properties for a number of months. It was quite a challenge to see the building being completely dismantled, but the result was everything they had envisaged – and much more!
"We love it! It feels like a real home. Our last house was quite plain in comparison, with grey sofas and walls. I wanted this house to reflect our personalities and tastes. Quite often, we just sit on the sofa and watch the evenings draw in and just enjoy the amazing view."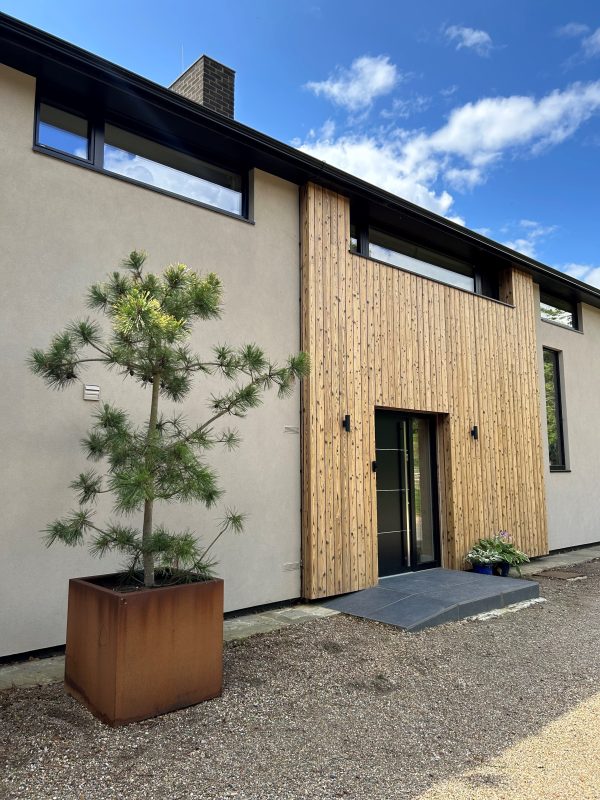 Why did they Choose Internorm Windows and Doors?
To do their research, the couple visited the Homebuilding & Renovating Show at the ExCel Centre in London, spoke to a few window companies, and decided to make appointments at their nearest showrooms. Via the Internorm UK website, they found Internorm Platinum Distribution Partner AT-Eco in Kent, visited their office and showroom and discussed the project.
Having visited other window companies, they decided that Internorm was their product of choice. Why? Like so many people looking for windows, their initial focus was on slim-line products. However, once they compared the thermal performance and cost of other brands to Internorm, they realised that there was no comparison.
They worked closely with AT-Eco to make the choice on products, colours, design style and interior finish, and they could not be happier with their choice:
"Living with our Internorm windows and lift & slide doors is a joy! Being on quite an exposed site, the robust quality of the products means that during fierce winter storms and horizontal rain, our home is quiet, warm and secure. There are no air gaps to worry about."
What was Important for their Renovation?
Choosing quality products and local suppliers were important factors in their decision making. They set out to renovate to the highest standard. They did not seek Passivhaus certification but wanted to renovate to Passivhaus standard and create a green, sustainable home that stood the test of time.
Installing Internorm triple-glazing with outstanding U-value was key, and the windows and doors were installed quite early on in the renovation to ensure that the building was watertight. The date they were given by AT-Eco was the 16 December, which they did not think would be met as it was so close to Christmas. But to their delight, they did turn up on the agreed date and all windows and doors were installed within two weeks.
Solar panels on the roof and an air source heat pump were added to be as self-energy efficient as possible.
"Due to the thermal efficiency of the house, and especially the triple-glazed windows, In winter, we use minimal amounts of electricity, and in summer, we sell back to the grid. So our energy bills are next to nothing," explained the homeowner.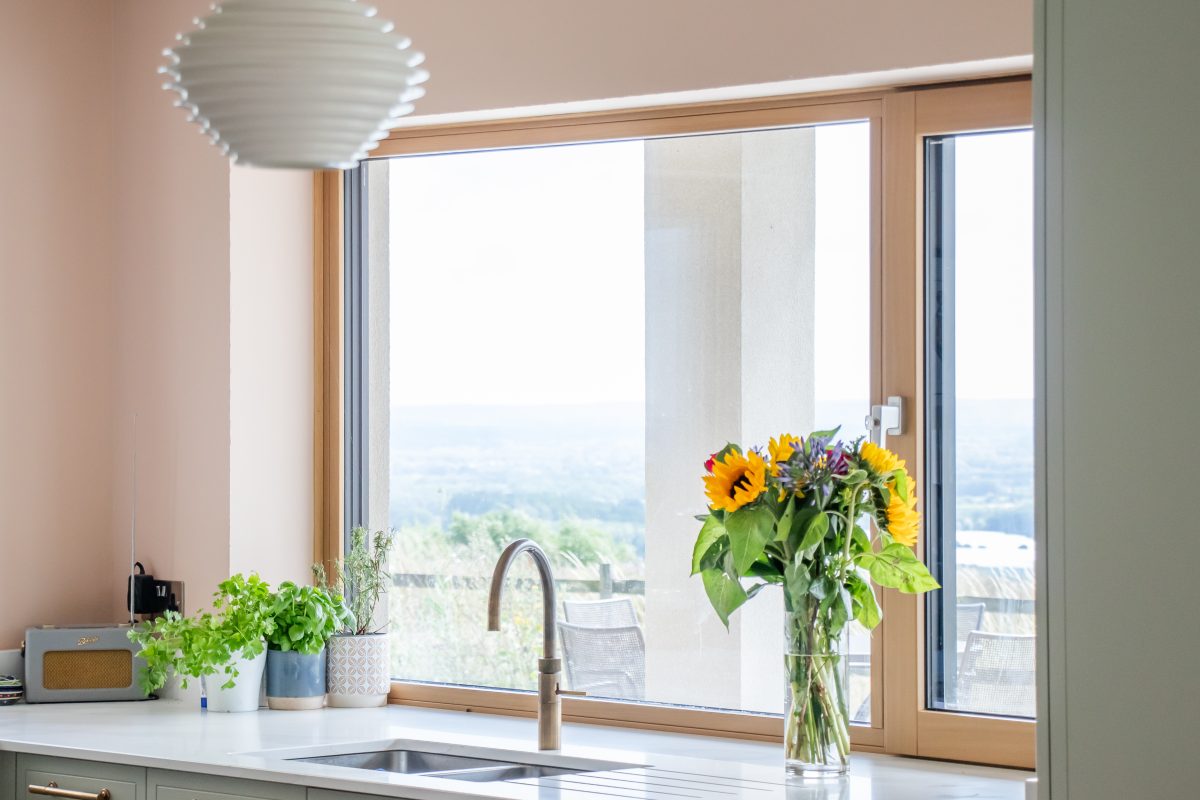 What Internorm Windows, Doors and Accessories were Chosen?
The couple were looking for a warm, natural feel inside and selected oak for the inside of the timber-aluminum composite windows and lift & slide doors. The large bathroom includes a uPVC-aluminium lift & slide door, as internal timber is not recommended for bathrooms or wet rooms with high humidity. The advantage of Internorm products is that you can mix and match timber-aluminium and uPVC-aluminium products without losing the external appearance. They also opted for a sleek, modern Internorm aluminium entrance door with a fingerprint scanner.
As the main elevation with stunning views faces south, it was important to include external Venetian blinds to the bedrooms, something which they were very grateful for during the recent hot weather last summer.
"We love the oak interior finish of the windows. They frame the views beautifully in all directions. Whatever the weather or season, the outside looks like an ever-changing painting."
Both above: internal: Oak EI700, external: RAL9005 jet black matt
What were the Biggest Challenges of the Renovation?
"Renovations are always challenging. This was our second one, and we had learnt valuable lessons from the first. Just because something looks good on paper does not mean that once you start and reveal the existing framework, you don't have to make changes and adapt your ideas. It's an ongoing process. A good rapport with your builder on a day-to-day basis is essential. It's definitely a team effort."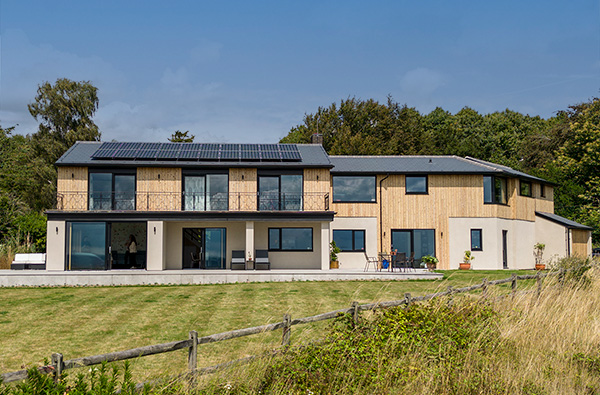 How was your Relationship with Internorm Distribution Partner AT-Eco?
"Everyone at AT-Eco was a real pleasure to work with, from the sales team to the surveyor and installation team. As windows and doors are such an early consideration in any project, we built a great rapport with the team during the visits on-site and in their showroom. During their site visits, together with our builder, the ensuing discussions led us to make small changes, which not only made sense but also resulted in cost savings."
If you are looking to renovate your home with Internorm windows and doors, find your local Internorm Distribution Partner on our homepage by entering your postcode and basic details.
Their experienced team will be happy to discuss your project, explain the products and choices in their showroom and offer advice on the most suitable Internorm products.