What is Triple Glazing?
In simple terms, triple glazing comprises of three panes of glass instead of one or two. Filled between each pane is usually an inert gas like xenon, argon or krypton. With an extra pane, this can reduce noise transmission whilst increasing your home's energy efficiency.
Advantages of Triple Glazed Windows
Making your home more energy efficient there are many key benefits of triple glazing such as: improved security, better insulation and a reduction in noise pollution. So, why are each of these benefits important?
Energy Efficiency
With more efficiency comes less money on your energy bills – your home can become a comfortable and stress free space whilst ensuring your carbon footprint reduces too.
Weatherproof
Triple glazing ensures that your windows will be less susceptible to condensation. Unlike double glazing, it's harder for the water and air to build up between the individual panes. This makes them better protected against adverse weather conditions and the unpredictable natural elements.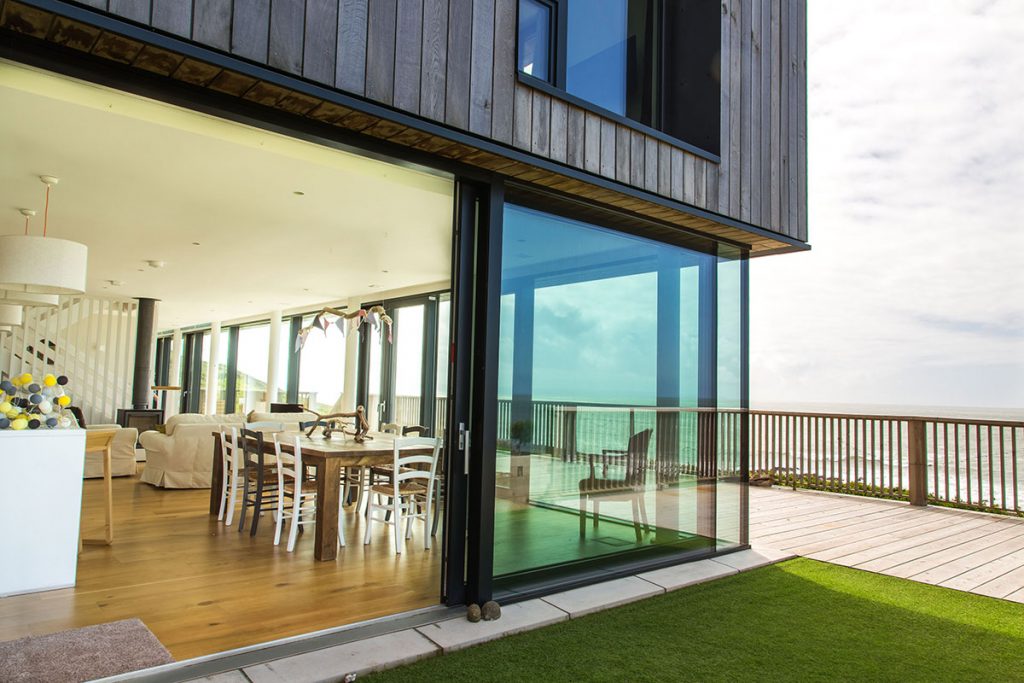 Noise Reduction
For those who live in busy areas, triple glazing offers a significant reduction in noise pollution. Inefficient windows that utilise double glazing can create colder patches in the house due to its higher U-value.
At Internorm, we provide a completely bespoke range of premium triple glazed windows, with our range of Timber Aluminium, uPVC and uPVC Aluminium windows, which are available in a variety of colours which all comply with Passivhaus Standards.
Security and Safety
As the material of triple glazing is robust, this provides your property with increased security against potential intruders from breaking in. Safety is one of the most important factors when considering a home; any improvements or refurbishments should be considered alongside ensuring that you and your loved ones feel safe. This is what we have done. At Internorm, we offer the very best standard of window systems that feature the very latest in locking mechanism technology to ensure your property is sufficiently protected.
Modern Style
Our Internorm windows achieve Passive House Standards, usually due to our I-tec glazing, which is standard fitted. I-tec helps to enhance stability and thermal insulation. Due to our Passivhaus window profiles being flexible and bespoke in design, each window we offer can be combined and constructed into your current home style. Whether it's modern or traditional, our technology and designs ensure that you can customise your windows however you like – we cater to your needs and specific requirements.
Is Triple Glazing Better than Double Glazing?
Internorm offers an exceptional collection of Passive House Windows; over the years, we have created hundreds of innovative designs using the very latest building materials and up to date technology. Our Distribution Partners provide us with various architectural builds across the UK with aluminium uPVC windows, aluminium timber windows and uPVC windows. All of these are crafted to achieve the desired Passive House Standards.
As well as this performance, our windows can be tailored to suit any style of property – therefore, no matter how contemporary or modern, triple glazing can cater for your home. Conventional glazing can provide average levels of thermal performance, but triple glazing can achieve even greater. The improved glazing helps reduce your overall energy consumption throughout your home and keep your property warmer in the winter and cooler in the summer. This will therefore reduce your energy bills and reduce your carbon footprint.
Contact Internorm for Your Triple Glazing Experience
So, if you are looking for an energy-efficient window that combines practicality with your home's current style, then contact Internorm! Our team constantly strives to provide our customers with the best quality products and services possible with our expert knowledge, giving you the ideal home improvement solutions for your home.
If you think our Passive House triple glazed windows are perfect for your property, then find your local Distribution Partner today and discuss your ideas with a friendly member of our team.