What Are Passive House Windows?
A window which is suitable for Passive House has to achieve outstanding thermal performance and is an integral part of the fabric of a building.
The Passive House standard provides a high level of comfort whilst using very little energy for both heating and cooling, making the most of free energy, thus making it a highly efficient way of living.
"A Passivhaus is a building in which thermal comfort can be achieved solely by post-heating or post-cooling the fresh air flow required for a good indoor air quality, without the need for additional recirculation of air." – Passivhaus Institut (PHI)
Internorm triple-glazed windows are made to the highest standards and have been used in Passive House construction for many years.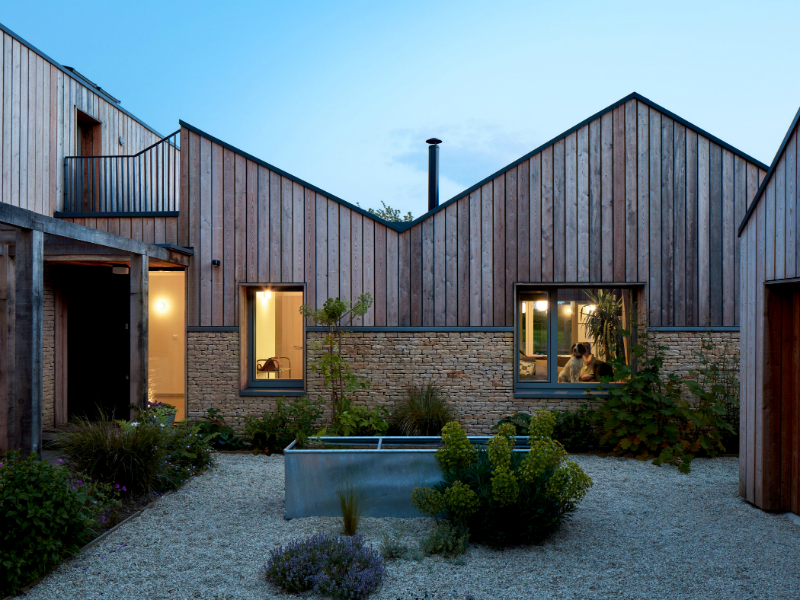 Why Choose Passive House Windows?
High-performance windows suitable for Passive House are ideal for low energy properties where thermal efficiency is of paramount importance to achieve optimum levels of comfort throughout the year.
The Passive House windows are characterised by their thermally broken and air tight profile. They are generally triple glazed filled with argon or krypton gas, achieving U-values of below 0.80 W/(m2K).
Internorm's window design has been carefully engineered over many years to achieve U-values as low as 0.62 W/(m2K), which meets and exceeds the Passive House standard of a U-value of 0.8 W/(m2K) for windows. You can minimise heat loss and keep your property warm and comfortable year after year. With Passive House suitable windows in a building, you will need little or no heating, therefore saving 50 – 80% on your heating bill – and yes, you can open windows. This seems to be a myth that arose a few years ago. In fact, there are many reasons why there needs to be at least one opening window in each habitable room.
Passive House windows have to reach a certain standard to achieve the certification. As already mentioned, to build a certified Passive House, the windows must achieve a U-value of 0.8 W/(m2K) or lower, and the building's energy consumption and air leakage are taken into consideration as well.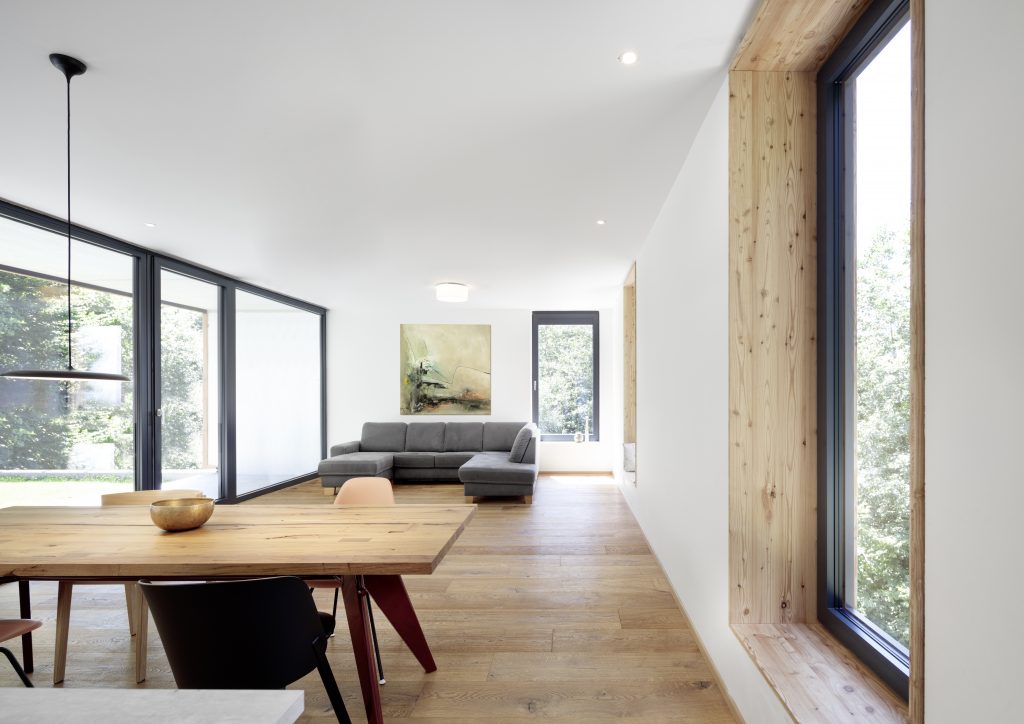 The Benefits of Choosing Passive House Windows
At Internorm, we offer the most comprehensive range of triple glazed Passive House windows on the market, including timber-aluminium, uPVC-aluminium, and uPVC. And it is not just windows; all our entrance doors and large lift & slide doors are suitable for Passive House projects. Why not contact your local Internorm Distribution Partner, who will be able to advise you on the best products for low energy homes, whether it is a brand new self build or Passive House renovation project.
Our bespoke architectural windows and doors for Passive Houses are made to your individual specifications and are available in a wide choice of timbers and finishes. Whether you prefer a contemporary or more traditional style of window, Internorm can deliver the highest thermal performance as well as security and noise reduction.
It is also important to work closely with your Passive House designer to ensure they include Internorm windows into their design from the start. Architects can get access to the Internorm Connect portal, which gives them access to drawings and technical information on all our triple glazing solutions, so let them know that they can register.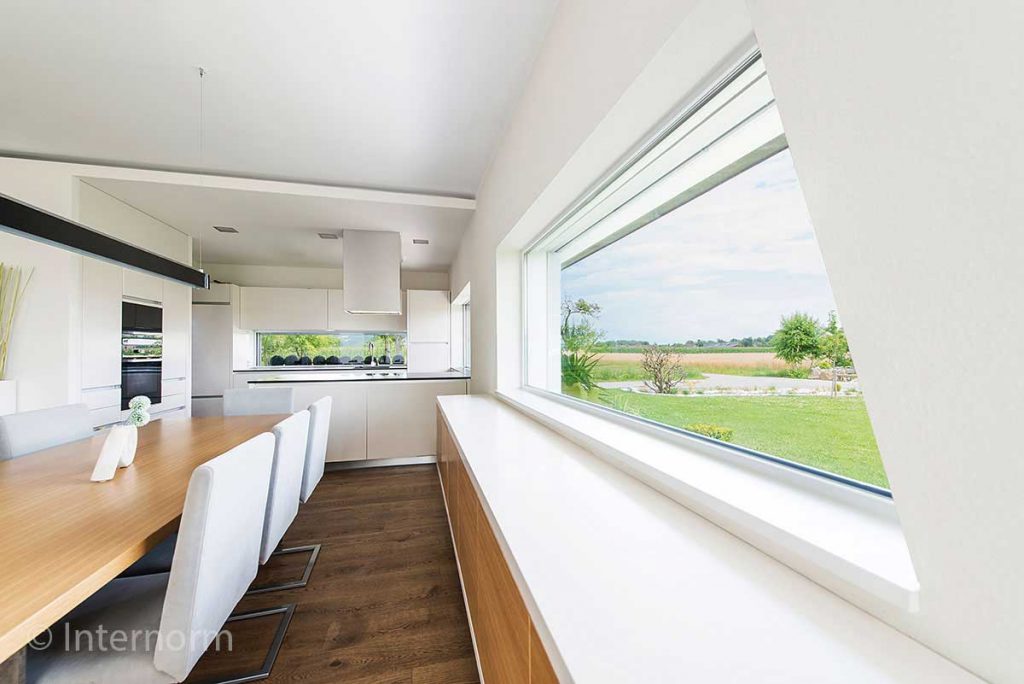 Passivhaus Certification – What's the Difference?
The Passivhaus principle has gained in popularity around the world over the past two decades, and the Passivhaus Institute (PHI), founded by Prof. Dr. Wolfgang Feist in 1996, is at the forefront of creating highly energy efficient buildings. Internorm windows and doors have been installed in many Passivhaus certified buildings, both residential and commercial, all across Europe and around the world.
Although the Passivhaus Institute issues product accreditations, Internorm windows and doors receive certification by the renowned independent testing institute ift Rosenheim in Germany (like the BBA in the UK), which ensures that products undergo the most rigorous testing. The Passivhaus Institute only tests for thermal performance, whereas the Rosenheim institute also tests for important factors like water tightness, air permeability and shock resistance.
In order to achieve Passivhaus certification, it is not necessary to choose Passivhaus certified windows or doors. What is far more important is the performance of they window and how it impacts the overall building.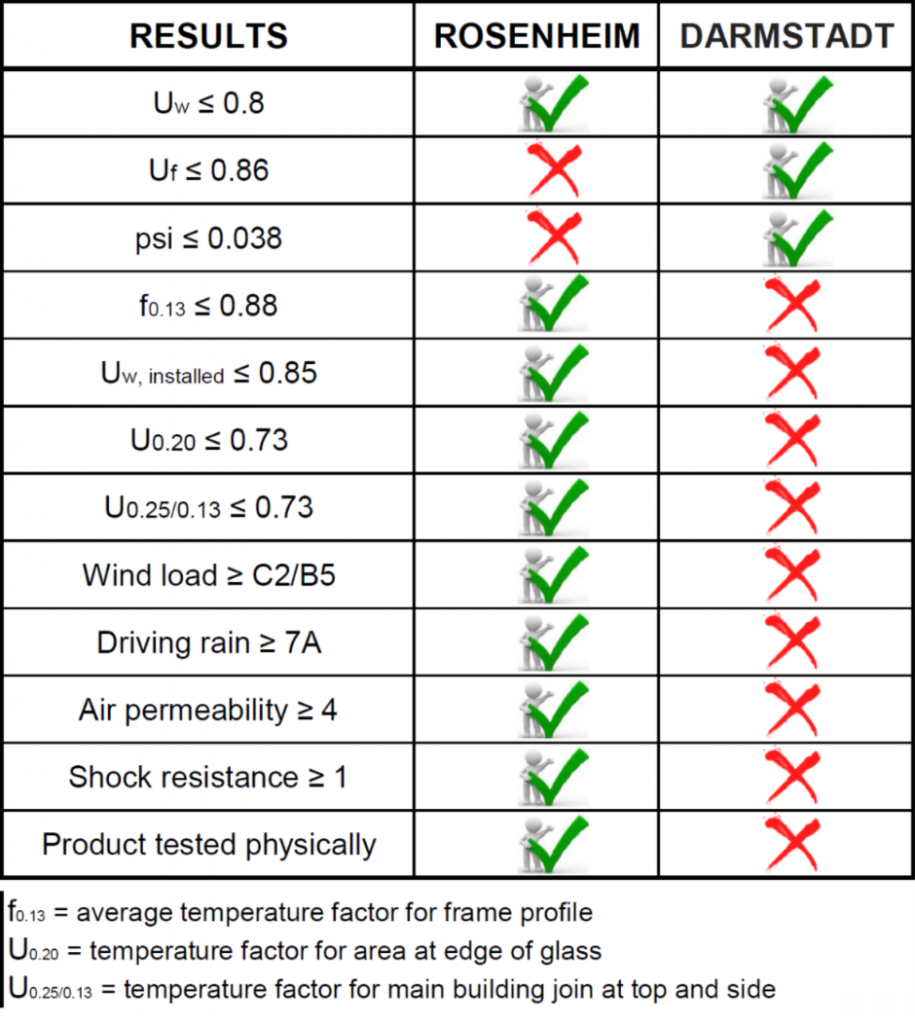 Contact Internorm Today
If you would like to find out more about our full range of products and services, then contact Internorm today. We offer a fantastic collection of Passive House windows for every architectural build. Internorm is proud to be the new patron member of Passivhaus Trust in the UK. We will help you create a Passive House suitable home, with our high end and sophisticated systems. Find your local Distribution Partner today, and they can help you kickstart your next project.