Para 55 New Build in Cotswolds with large lift & slide doors
This unique Para 55 property sits on a spectacular hillside location. The most striking feature of this new build is that the roof is shaped like a leaf and the large Internorm lift & slide doors combined with fixed glazing follow the curves of the leaf, providing magnificent views from the main living areas.
Designed by renowned architect Richard Hawkes (Headlands | Para 55 Passive House | Hawkes Architecture), this low energy home uses Passivhaus principles and offers the best of modern, open plan living, with a large kitchen, dining and living area, as well as study occupying the space underneath the leaf-shaped roof. All bedrooms, which are in an adjacent building, include large tilt & turn windows offering views over Cheltenham.
What was the Brief?
Internorm platinum partner Ecohaus have installed Internorm products for many years and value the quality, versatility, and innovation of the Internorm range. In order to get planning permission, all aspects of the design had to be thought through carefully. Ecohaus worked closely with the architect and homeowners to select the best windows and doors for this unique eco-home, where it was important to combine the outstanding thermal performance properties provided by the triple glazing with maximising the stunning views across the Gloucestershire countryside.
Products used in this project
The client was keen to use timber on the inside, so the products chosen for this project in design style Home Pure were: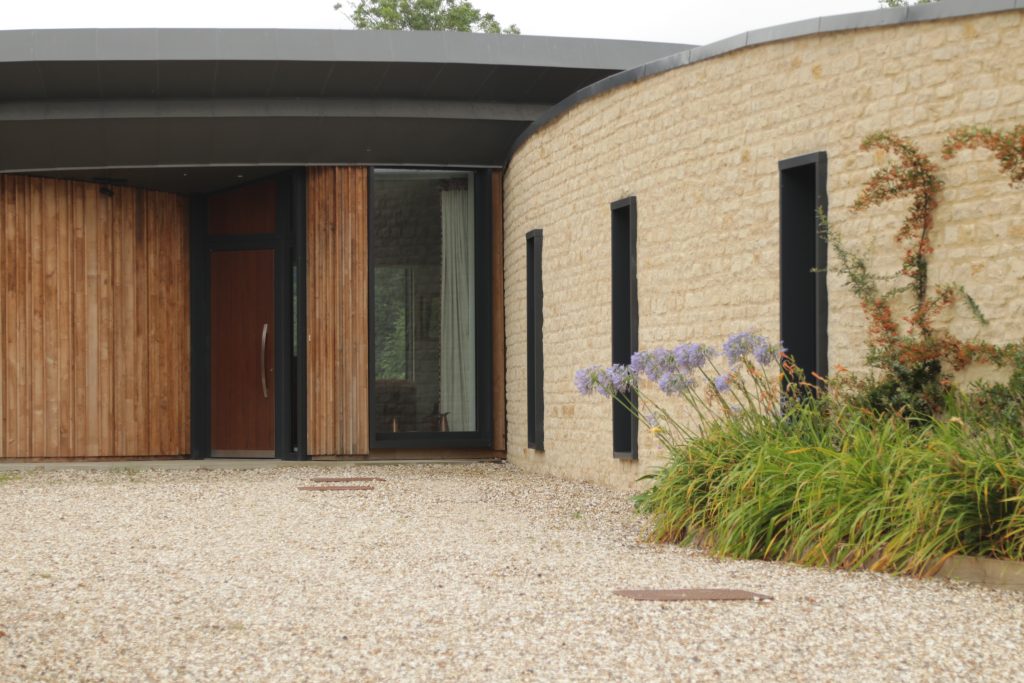 All Internorm triple glazed windows and doors are made to order and are bespoke. The high quality of raw materials, as well as the careful construction and unique glazing methods used, mean that our products can achieve U-values as low as 0.62 W/(m2 K), making them the ideal solution for eco-friendly and sustainable living, as well as Passivhaus building. By saving energy, Internorm windows and doors contribute greatly to reducing your carbon footprint.
The Internorm systems in this low energy home not only provide outstanding thermal efficiency, and acoustic performance, the hardware and construction of the windows and doors offer enhanced security, something that was also important to the client.
'We liked the very high standard of construction, the rigidity of the frames and windows and particularly the ease with which these heavy sliding windows moved with the touch of a finger. The multiple locking system appeared to provide excellent security, which was subsequently proven when an attempted break in was foiled by the locking system. The slim window frames also provided wonderful uninterrupted views and the triple glazing keeps the house amazingly warm even with one third of the walls being glass,' explained the homeowner.
For this new build project, the timber used on the inside was spruce, however, customers can choose from larch, oak, ash or walnut in different finishes. A factory painted finish is also available and the clean, crisp Traffic White is a particularly popular colour. So, whatever your taste or interior design, Internorm can create the most suitable product for your project.
The hardwearing powder-coated aluminium cladding externally in Anthracite Grey is not only virtually maintenance free, but it also creates a clean, contemporary design for any style of home. Internorm's composite systems allow the combination of timber-aluminium with uPVC-aluminium without losing the external appearance. In fact, uPVC-aluminium is recommended for rooms with high humidity, for example bathrooms, shower rooms and wet rooms.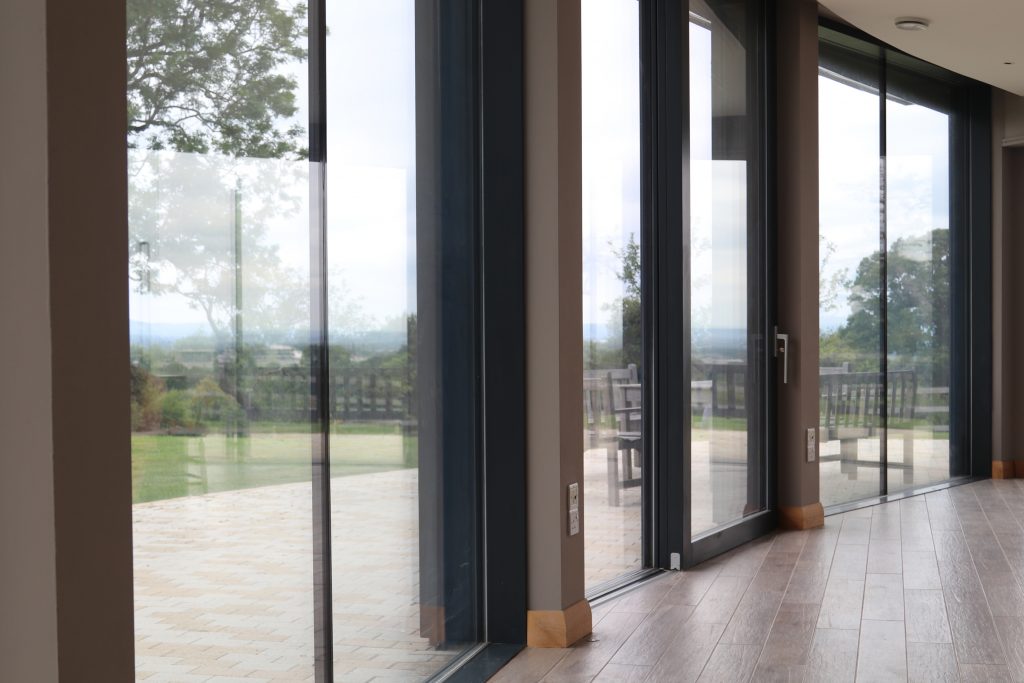 Internorm Entrance Doors
Internorm offers Aluminium and Timber-Aluminium entrance doors with an array of designer panels to suit every taste and architectural style. The owners of this home opted for the AT410 aluminium entrance door, which is a highly thermally efficient, secure door. In addition to face panels, you can opt for different handles, as well as modern door opening system, such as the latest fingerprint scanner or keypad system.
For more information on Internorm entrance doors, read 5 Front Door Facts to Transform your Home | Entrance Doors | Internorm
Speak to your approved Internorm partner about your project
Whether you are embarking on a selfbuild or want to extend or renovate to future-proof your home, we have an Internorm partner near you. Why not give them a call to discuss your project, get advice on the most suitable high performance Internorm windows and doors, colours, finishes, current promotions and more. Your Internorm partner will be happy to carry out a survey, work with your architect and provide you with a quotation and lead times, and install the Internorm products.
All Internorm projects are unique, which is why Internorm only manufactures to your specifications. If you are creating a low energy or Passivhaus home, Internorm offers the most comprehensive range of triple-glazed windows and doors on the market.
To find your local Internorm partner, please click here and enter your postcode. We look forward to welcoming you as another happy Internorm customer very soon.