Timber-Aluminium Front Doors
Being able to combine the contemporary design of this timber aluminium door with the rural landscape of the countryside, the wooden appearance blends in with seamless effect. The modern technology, mixed with the warmth of the timber finish provides the very best low-energy and passive-house suitable Internorm timber aluminium entrance door.
All our valued customers can choose from sustainably sourced spruce, larch, oak, ash or walnut to complement your home while maintaining thermal efficiency due to the incredibly versatile materials. To complete the look of our client's new timber aluminium front door, we offered them a choice of stainless steel bar handles and push and bow handles in both steel and Chrome Matt finishes. Their choice of a steel handle finish added a modern quirk to the wooden and natural appearance. Whatever our clients needed, we made sure that we delivered a service like no other.
Timber-Aluminium Windows
Surrounding this Cheltenham property, we installed our timber aluminium windows which were a key priority for our clients. They wanted a home improvement solution to improve their thermal efficiency whilst maintaining their glorious countryside landscape view. Internorm gave this property the ultimate triple glazing and aluclad solution to help the home retain heat easier and prevent any warm air from escaping outside, maintaining a comfortable interior temperature throughout the year. These insulating abilities are naturally built into the frames, which all offer extremely low U-values to be Passive House suitable and meet the desired specifications for a great thermal performance.
Our expert team created a home improvement solution ideal for this Cheltenham countryside property. Although, at Internorm, our products can be tailored to suit any design and style of home, giving them an adaptable nature and versatile features. These windows have U-values as low as 0.62, making this home an eco-friendly and a sustainable living space – our clients were thrilled knowing that we are helping them reduce their carbon footprint, just be upgrading their windows!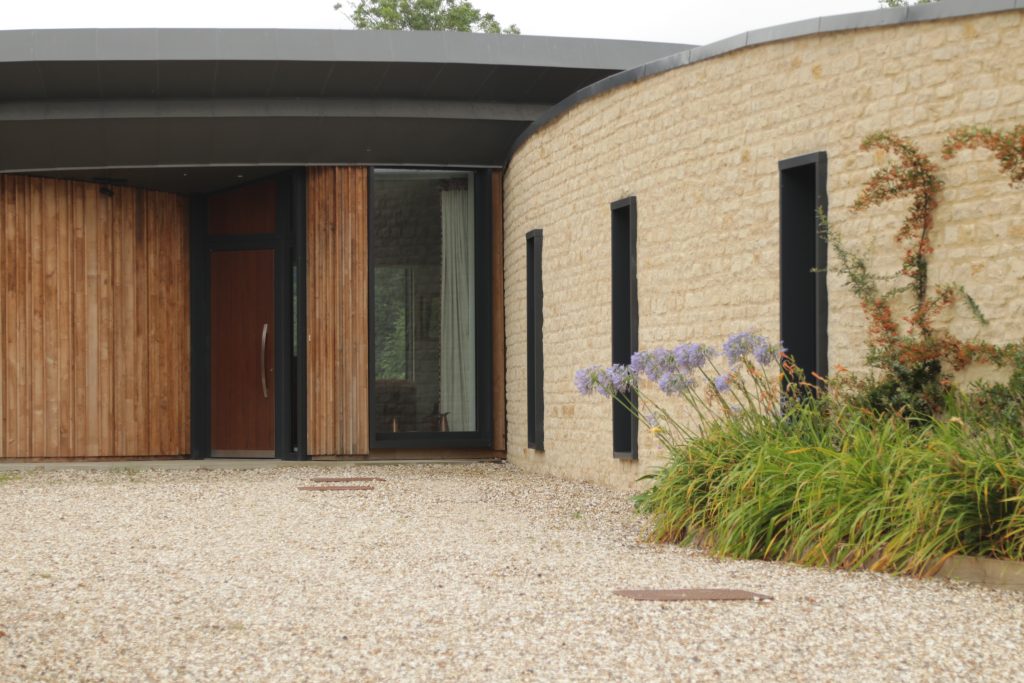 Surrounding the Cheltenham property, we placed our timber aluminium windows alongside their newly installed lift & slide doors and also within their brick walls. Their property sports a modern aesthetic, as such we didn't want to take the countryside element away from its appearance. Therefore, we made our windows seamlessly blend into the walls without making too much of a statement. Although, the colour transition between the aluclad windows and the cream brick wall, giving a slight hint into the exciting new features within this property. Whatever the clients wanted, we tailored our products to enhance all their ideas and give them a unique experience of having completely versatile windows created for them and them alone.
Lift & Slide Doors
This Cheltenham property overlooks beautiful scenery, which is why our clients wanted a home improvement solution that enhanced their home's top features. We worked together to create a widespread display of lift & slide doors surrounding the property, giving this Cheltenham home a complete transformation. Below you can see the variations between our lift & slide doors and window panels – we wanted to give this home the seamlessly blended style they deserve but with fancy quirks and a unique twist on a modern design. We want our clients to enjoy more of their living space, and due to their large garden, our lift & slide doors allow the homeowners to enjoy the entirety of their space without limiting it to just the indoors. We make sure that our clients get the most out of their homes, so we invite the outdoors indoors with our contemporary and widespread glass panes.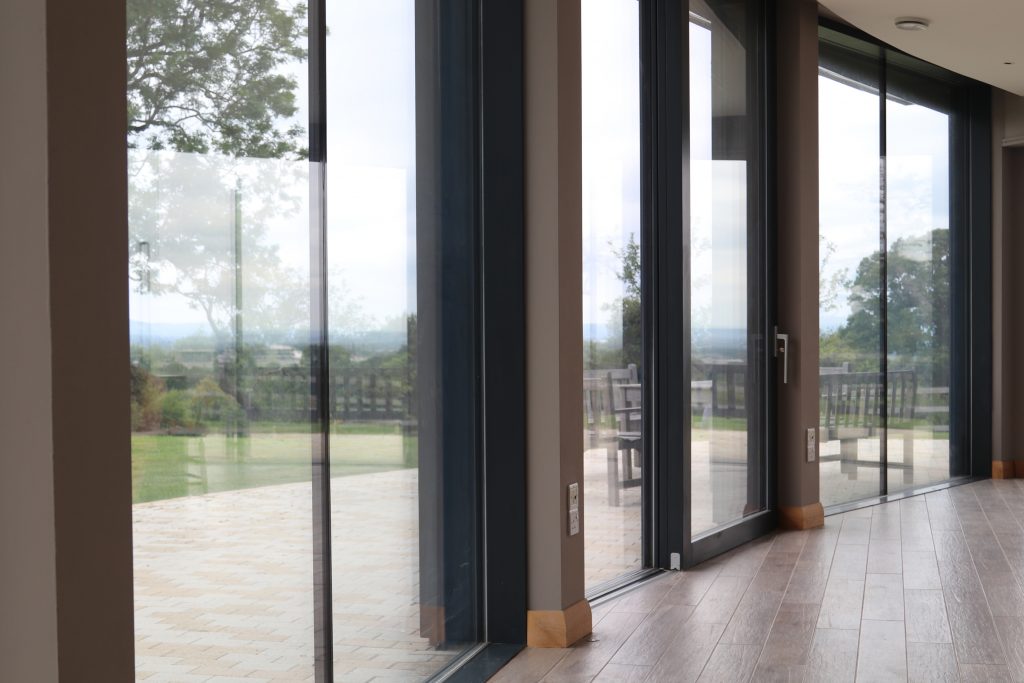 With a completely bespoke and customised look, our clients were able to specify their desired colours and finishes. The main feature, in this case, was the connection between the lift & slide doors with the timber aluminium windows. These new solutions created a traditional yet modern atmosphere that enhanced the minimalist lines of the rural Cheltenham home by overlooking the gorgeous greenery. Due to their specific customisations, we created a durable and strengthening home improvement solution that should last for many decades to come. With the latest hardware technology and premium materials, we ensure that our valued customers boost versatility and stunning visual aesthetics.
For any property, we want to maximise the usage of their home. One of the key features of our lift & slide doors is the floor to ceiling glass panes which provides an incredible amount of natural sunlight throughout the year. Additionally, the glass panes that we installed across the length of the property means that the home will get natural lighting all through the day. Thanks to our lift & slide doors, there will never be a dark room in the house.
Our clients live in the countryside with a rural background, which means that we could give this home an open and inviting living space. Our lift & slide doors ensure that these Cheltenham homeowners can relax and always be conformable due to their improved home efficiency. Our wide selection of glazed products create an incredible amount of sustainable energy – with their home now having U-values as low as 0.64, they can save money on their energy bills every month!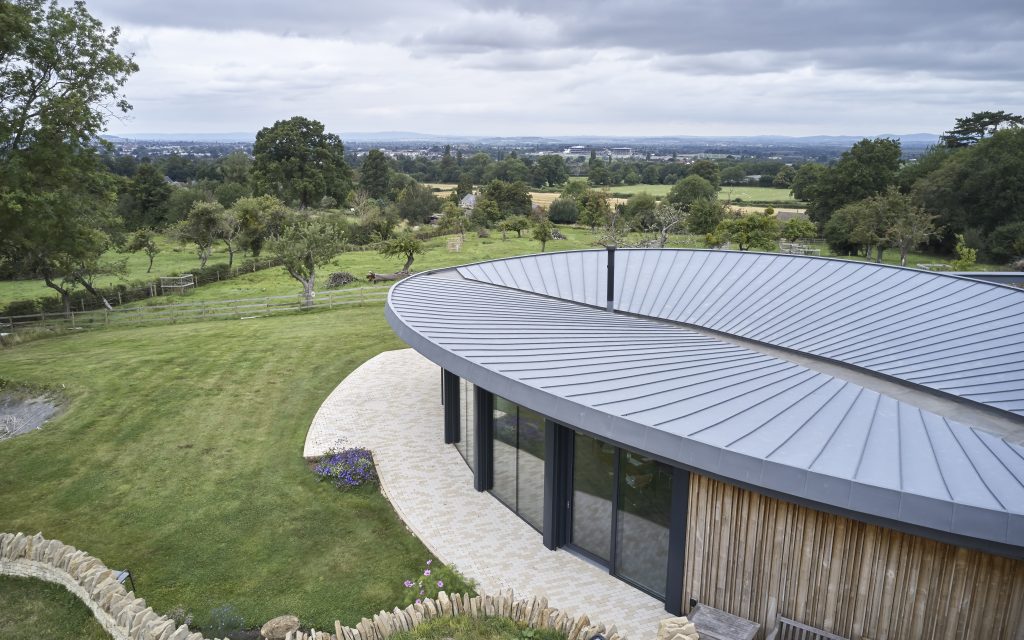 Your Unique Internorm Experience:
Our team of experts will successfully install our home improvement products with no hassle or stress. We can cater to each product to fit your desired size, shape, and design. Regardless if you live in Cheltenham or any other region in the UK, we ensure that we can offer all our valued customers a bespoke, energy efficient, durable window and door solution for your property.
Contact us today to discover more about all our projects and how we can transform your home today! We look forward to speaking with you soon!