Passivhaus is a design standard for energy-efficient buildings that are designed to minimise the need for heating and cooling. When designing a Passivhaus building, it is important to always consider shading at the design stage to minimise solar heat gain, optimise thermal comfort, and reduce energy consumption. Shading is not just important for a Passivhaus but any building.
The orientation of a building and siting of rooms is also an important factor as different elevations will have varying levels of solar gain. For example, orientate the house east-west to ensure a long side to face the sun.
Minimising east and west facing windows reduces excessive summer heat gain. Also, plan rooms in a way so that cooler, functional spaces are located with a northerly aspect and habitable living areas take advantage of the warmer southerly aspect.
Architectural glazing, especially in self-build or extensions, has become larger in recent years to maximise the light coming into the home. It also brings the outside in, provides uninterrupted views and merges indoor and outdoor living spaces. However, if shading is not considered, the home can very quickly overheat during summer months, especially on south and south-west facing elevations.
So how can excessive solar gain be avoided?
There are several types of shading that can be effective in a Passivhaus, as well as buildings in general:
1. External Shading
This type of shading, such as Venetian blinds and roller shutters, is installed on the exterior of the building and can be fixed or movable. External shading can be very effective at reducing solar heat gain. Internorm's aluminium Raffstore Venetian blind system can be combined with both triple-glazed tilt & turn windows, as well as lift & slide doors.
The Raffstore external blind is a better option than an internal blind as it stops the sun from heating up the glass surface in the first place, therefore minimising the radiant heat transfer through the window. It can be programmed to automatically come down if the temperature gets above a certain level or by time of day.
They can be integrated into Smart Home systems and help to control solar radiation and light transmission, therefore contributing to passive cooling in summer and solar heating in winter.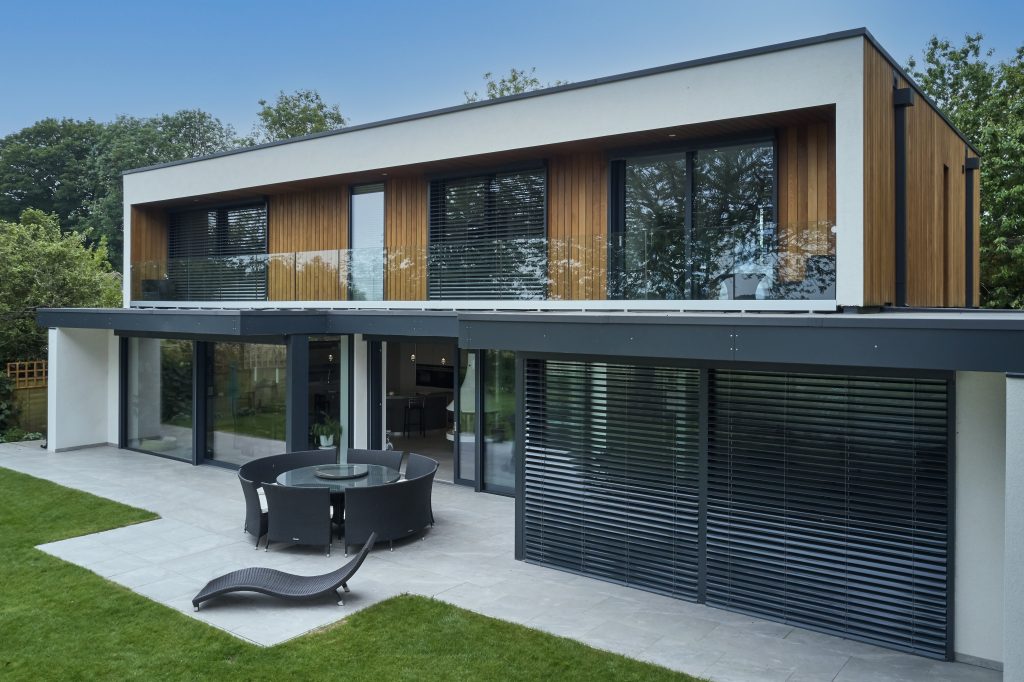 2. Internal Shading
There are a variety of internal shading options available, from traditional curtains to internal shutters and blinds. Internal shading can be less effective at reducing solar heat gain, but it allows for the control of natural light whilst still maintaining views.
3. Integrated Shading
Integral blinds are typically installed in a sealed unit between the glass panes of a window. A common problem with blinds being in a sealed unit is that if something goes wrong, the whole glass unit has to be replaced, which can be costly. However, Internorm's Timber-Aluminium and uPVC-Aluminium composite range includes tilt & turn windows with accessible integrated shading.
One clever option is I-tec Shading where the blinds are powered by a solar panel without the need of hardwiring. No more dusty, dirty blinds to clean. Available as Venetian, Roman or blackout blinds, they can also be integrated into a Smart Home System and controlled simultaneously or individually.
Integrated shading is a neat and stylish alternative to curtains, external blinds and other window dressings for your home or business. They not only provide shade but also privacy.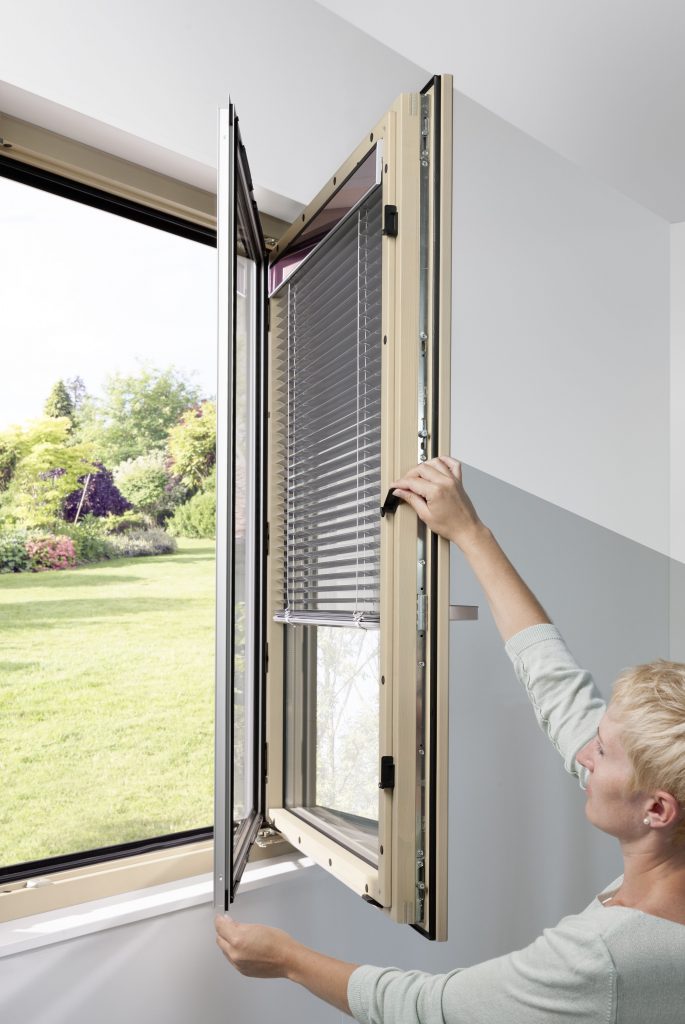 4. Green Shading
This type of shading incorporates plants or trees to provide shade to a building. If placed correctly, green shading can be very effective at reducing solar heat gain.
5. Overhang/Brise Soleil
Brise soleil is a type of solar shading using a series of vertical or horizontal fins to control the amount of sunlight and solar heat that enters a building.
Brise soleil systems are generally designed and built above glazing to prevent glare and reduce overheating. This system allows low-level sun to enter a building in the mornings, evening and during winter but cuts out direct summer sun, which rises to a maximum angle of 62 degrees in the UK.
The name 'brise soleil' comes from the French word 'sun breaker'. The system was developed by the Swiss architect and city planner, Charles Édouard Jeanneret, a pioneer in passive energy control, who first used solar shading on multi-storey buildings in the 1930s.
In general, the best shading for a Passivhaus building will depend on the specific needs and circumstances of the building and its location. We strongly advise you to consult with a Passivhaus certified designer or an energy engineer to determine the most appropriate shading solution. Your local Internorm Partner will be happy to discuss shading options with you.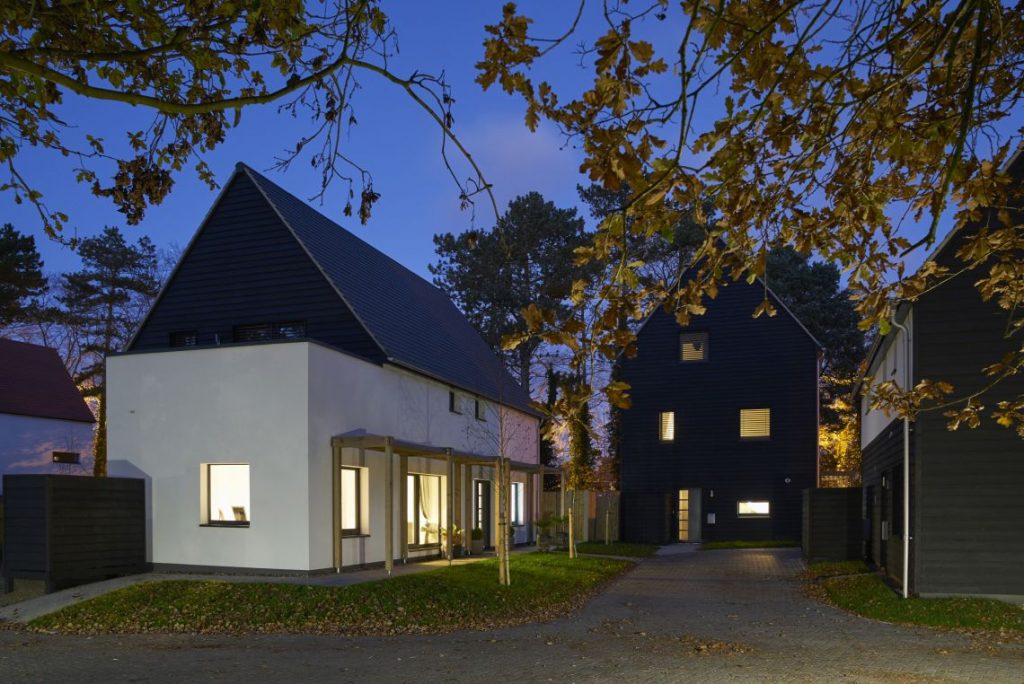 To find your local Internorm showroom, click here and enter your details.