At Internorm Windows and Doors, we are proud to be Europe's leading window manufacturer, delivering high-quality glazing and home improvement solutions to homeowners across the country.
Internorm's Gold Level distribution partner, Cherwell Windows, based in Banbury, Oxfordshire, recently completed a stunning new-build project in leafy Hampshire. The homeowners had already lived in this quintessential British village for many years in a more traditional home but acquired this plot with a view to creating a home, which was not only highly energy efficient, secure and comfortable to live in but was also easy to maintain.
Internorm Products used within this Installation:
Lift & Slide Doors: KS430
uPVC aluminium window: KF410
HX300 Glazing
AT410 Entrance Doors
Colours used: Anthracite Grey HM716 externally, Dark Grey uPVC internally
Working closely with Cherwell and their local architects, it was very important for the owners to make the most of the stunning views across the Hampshire hills. The obvious choice was our large KS430 lift & slide doors, combined with the KF410, both uPVC/aluminium windows. Due to the south-facing aspect of the property, it was important to incorporate Raffstores, Internorm's high-quality external shading solution.
The front of the property doesn't fail to impress with its AT410 entrance door, surrounded by a large, striking expanse of our HX300 panoramic frameless glazing, creating a sleek, contemporary look.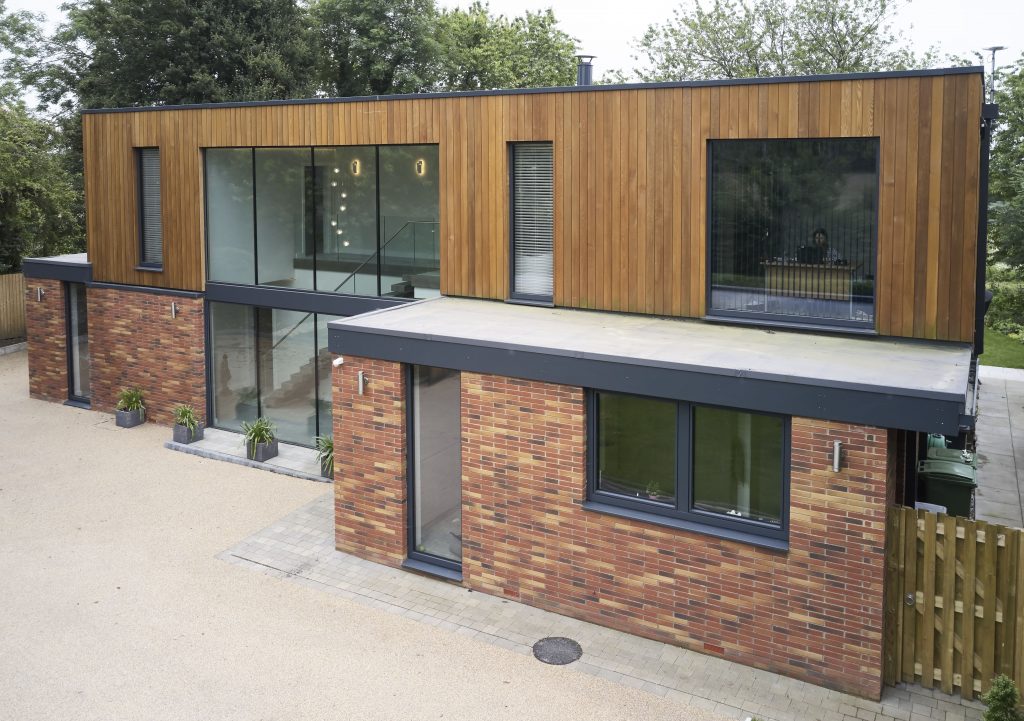 All Internorm products are connected to a SmartHome system, allowing the owners to control all aspects of their home at the touch of a button from anywhere inside their home as well as when they are away from home.
KS430 Lift & Slide Doors
By utilising the latest hardware and premium materials, our KS430 lift and slide doors excel in all areas of performance, helping boost energy efficiency and security in this new build project, whilst at the same time allowing to merge the outside with the inside.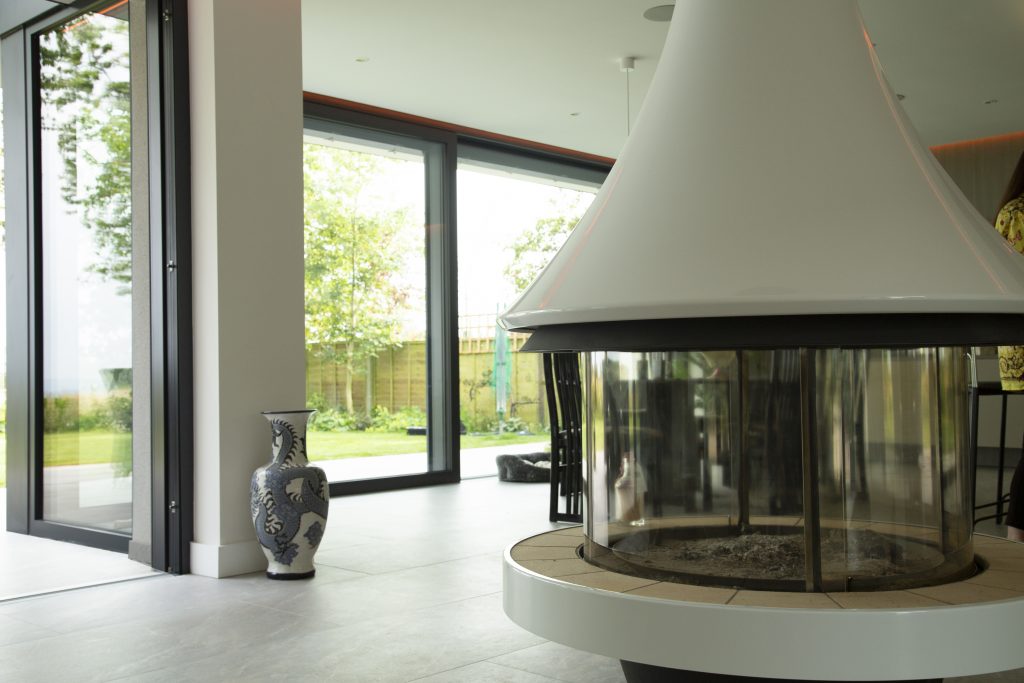 Cherwell installed Internorm's lift and slide doors throughout the entire property, both on ground level and on the first floor for all the bedrooms. Our exceptional range of sliding doors reinvents how you enter and exit your property, easily gliding on a seamless operating system, never jamming or jarring, unlike many conventional designs. One of the deciding factors for choosing the KS430 was the level threshold, which creates a clean, seamless transition between the tiled living area and the outside patio.
"I am so glad that Cherwell persuaded us to include the external Raffstore shading on the sliding doors and fixed glazing. As we are south facing, they stop the house from overheating and we could not have done without them. Best of all, we can control them individually through our SmartHome system," said the homeowner during our visit.
When considering large glazing for your home, it is important not to forget about shading.
Improve your Home Security
One of the most important factors for this new build project was security. Being in a remote location, the homeowners wanted to feel safe in their property, while not having to worry about potential break-ins when they do leave the home. A keypad was installed at the front of the new build property, which can also connect to your phone or other smart devices. This provides another layer of security, while also allowing for access to the home should the owners misplace their keys.
Our Hampshire based client can now sit back and enjoy the stunning views, provided by the large glass panes, slim sightlines and state of the art security of our KS430 sliding door.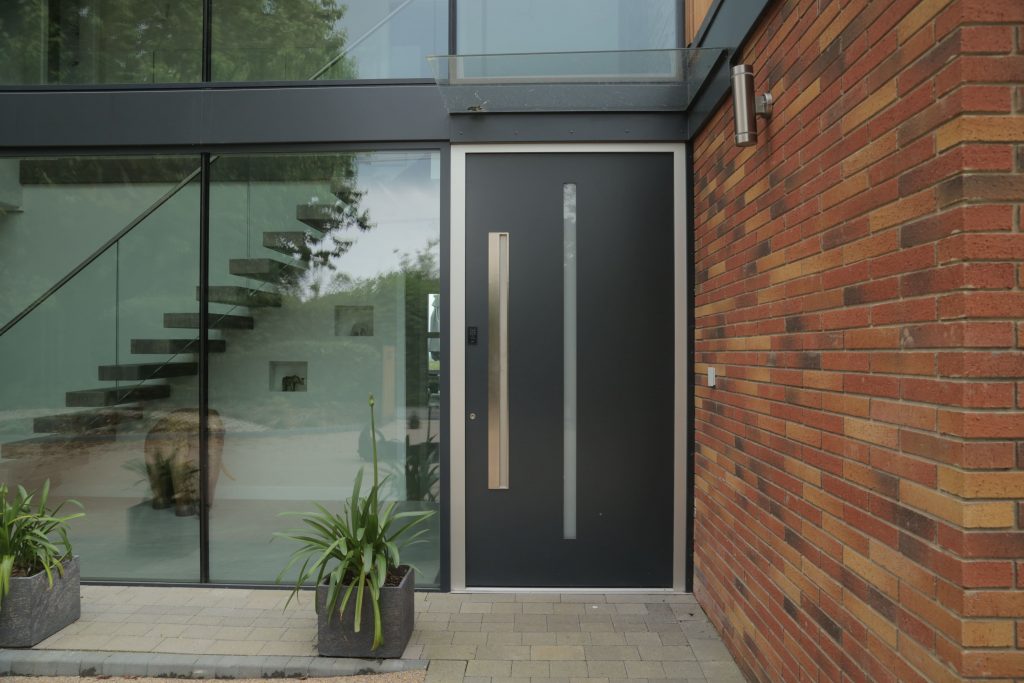 The special ECLAZ coating on the glazing allows for more natural daylight to enter the property, not only brightening up the inside of their home, but also making it feel more spacious and airy.
KF 410 uPVC Aluminium Windows
The new build property also benefited from having our KF410 uPVC aluminium windows installed. Internorm's uPVC aluminium windows are exceptionally energy efficient. The well-insulated frames and glass keep cold draughts out and warm air inside, helping reduce the need to use your central heating, thus reducing your carbon footprint.

For this Hampshire based new build project, one of the biggest challenges was solar gain. With well insulated triple glazing and large scale glass panes, the client decided to have our I-Tec shading integrated blinds installed in their composite windows. This allows them to have privacy as well as efficiently block out any unwanted direct sunlight during spring and summer, keeping their home at the ideal temperature.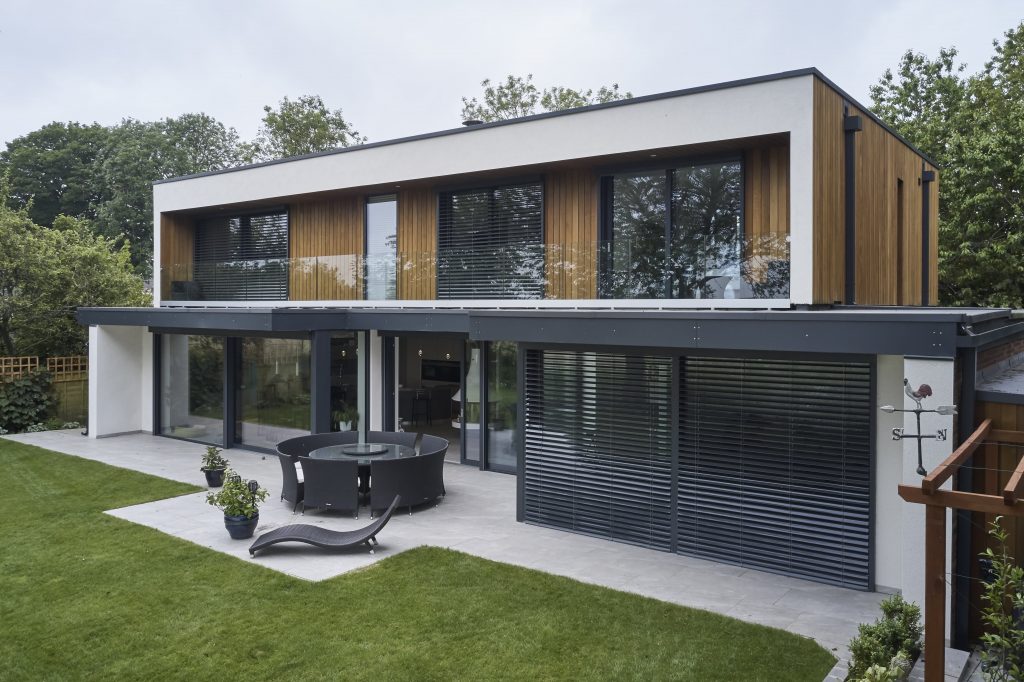 HX300 Glazing – Wall to Ceiling Windows
In this property, Internorm's double-height HX300 glazing above and to the side of the AT410 entrance door, creates an incredibly impactful and contemporary look, making the perfect first impression when approaching the home.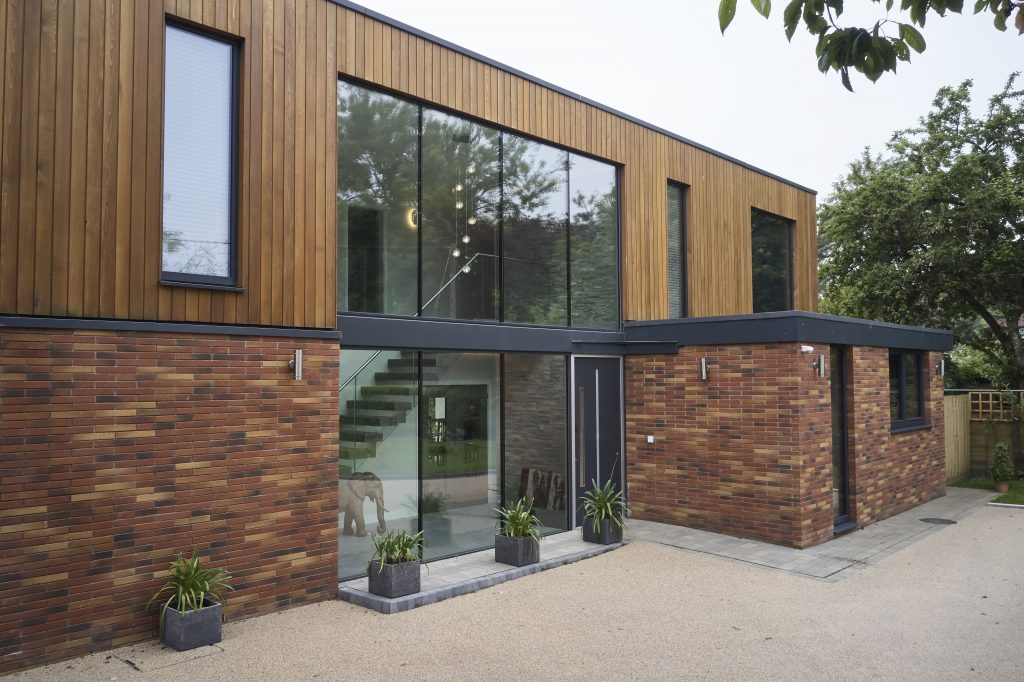 The HX300 glazing is incredibly popular due to its 'invisible' glass joints. The large-scale glazing can be completely integrated within the brickwork of your property, creating a virtually invisible join between frame and glass. This adds a stunning, modern design to any property, giving the illusion of wall to ceiling windows that allow light to flood your home.
Internorm Windows and Doors Hampshire
Whether you live in Hampshire or any other region within the UK, Internorm, together with our nationwide approved Partner Network, are passionate about offering bespoke, highly energy efficient, glazing solutions for homeowners. We create individual parts for your unique project, whether it is a new-build, barn renovation or remodelling project, which means that you can effortlessly match Internorm products to the architecture of your property.
Internorm and its partners pride themselves in not only offering the best window and door products on the market, but supporting our customers every step of the way, from the initial advice to the installation and after-service. With the reassurance of extensive warranties on all Internorm products and the company's focus on quality and sustainability, Internorm customers can enjoy their windows and doors for many years to come.
If you are looking to create a more energy-efficient, secure and quiet home, contact your local Internorm distribution partner to discuss your project.